Energieffektivisering enligt SEEMP : En studie av de åländska rederierna
Hansson, Håkan (2017)
---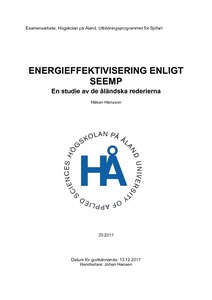 Högskolan på Åland
2017
All rights reserved
Julkaisun pysyvä osoite on
http://urn.fi/URN:NBN:fi:amk-2017121321128
Tiivistelmä
Marina transporten står för 1000 miljoner ton Koldioxid CO2 eller ungefär 2,5% av världens årliga utsläpp av Växthusgaser. Sjöfarten beräknas öka utsläppen till år 2050 med mellan 50 och 250%, beroende på framtida utvecklingen av världsekonomin samt ny teknik. Detta är inte förenligt med det internationellt överenskomna målet, att hålla den globala temperaturhöjningen under 2°C jämfört med preindustriella nivåer, vilket kräver att utsläppen i hela världen halveras åtminstone från 1990 års nivåer till år 2050.
Syftet med det här arbetet är att undersöka vilka åtgärder de åländska rederierna har gjort utifrån Ship Energy Efficiency Management Plan (SEEMP), vad de planerar för investeringar i koldioxidreducerande åtgärder, samt vilka svårigheter rederierna möter i sitt arbete med reducering av koldioxidutsläpp från sina fartyg.
Genom en kvalitativ undersökning med intervjuer av åländska rederier har jag dragit slutsatsen att de åländska rederierna arbetar aktivt med energieffektivisering på sina fartyg och att det är viktigt även på framtida nybyggen. Huruvida SEEMP har bidragit med minskade koldioxidutsläpp från de åländska rederierna är dock svårt att säga.
Marine transport accounts for 1000 million tonnes of CO2 or about 2.5% of the world's annual greeen house gas (GHG) emissions. Shipping emission is expected to increase between 50 and 250% by 2050 due to future economic and energy developments. This is not consistent with the internationally agreed goal of keeping global temperature increase to below 2°C compared to pre-industrial levels, which requires emissions worldwide to be at least halved from 1990 levels by 2050.
The purpose of this study is to investigate what actions the shipping companies based on Åland have done since the Ship Energy Efficiency Management Plan (SEEMP) was implemented what investments they plan to reduce their carbon dioxide footprint and the difficulties they face in their efforts to reduce carbon emissions from their vessels further.
The result from the qualitative research with shipping companies based on Åland shows that they actively work to make their fleet more energy efficient and that it is important also in future newbuilding. However, if SEEMP has contributed to reduced green house gases (GHG) emissions from the shipping companies based on Åland is not certain.
Kokoelmat