Innovation and entrepreneurship in universities : the proceedings of the 3rd international FINPIN 2010 conference
---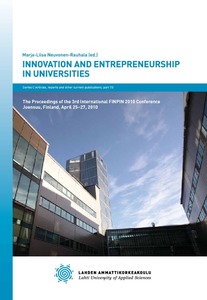 Editoija
Neuvonen-Rauhala, Marja-Liisa
Lahti University of Applied Sciences
2010
Julkaisun pysyvä osoite on
http://urn.fi/URN:ISBN:978-951-827-113-3
Lähdeviite:
Neuvonen-Rauhala M. (Ed)., (2010). Innovation and entrepreneurship in universities : the proceedings of the 3rd international FINPIN 2010 conference. , In: Publication of Lahti University of Applied Sciences Series C Articles, reports and other current publications, part 73, Lahti University of Applied Sciences.
URN:ISBN:978-951-827-113-3
Tiivistelmä
The third bi-annual FINPIN Conference took place in April 2010 in Joensuu, Finland. This event was organized by the FINPIN Network (Finnish Entrepreneurship and Innovation Network for Higher Education) together with North Karelia University of Applied Sciences. This third conference continued the idea found rewarding already in the previous FINPIN conferences of sharing experiences, research results and best practices in the field of promoting entrepreneruship and innovation.

The theme of the third international FINPIN Conference 2010 was: Entrepreneurship and Innovation in Universities. It seems that in the promoting entrepreneurship and innovations we promoters are returning to basics: How the pedagogy of entrepreneurship education and learning environments should be arranged for achieving the best results for all the actors. The pedagogical issues for the entrepreneurship education are discussed from many interesting point of views. In close connection to the pedagogical studies also measuring and evaluating the results of the entrepreneurship education are suggested in many articles. The third part of the proceedings articles tackle very concretely with cases that present, how pathways to entrepreneurship should be supported and how the cooperation with enterprises could be arranged by implementing the idea of the triple helix models.
Kokoelmat