Viewer's experience - Wellbeing impacts of watching contemporary dance
Rahkala, Kaisa (2018)
---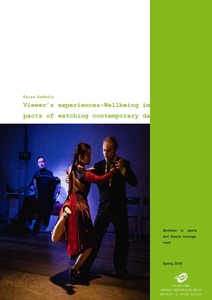 Kajaanin ammattikorkeakoulu
2018
All rights reserved
Julkaisun pysyvä osoite on
http://urn.fi/URN:NBN:fi:amk-2018060112042
Tiivistelmä
The research was targeting on investigation about wellbeing impacts of watching contemporary dance. The aims of the research are to benefit all of the parties of the study. The results of the study are beneficial for the company in marketing purposes, as the customers might be attracted by the benefits that come with watching dance. The results benefit the performers as bringing in feedback and showing how the customers experience the performance. For further development of the performance, the performers must know the wellbeing-, or negative impacts their performance causes within the viewer's. As the wellbeing impacts of watching dance have not been commonly investigated before, the results of the study will benefit the society by bringing out new information about wellbeing in general. The thesis process is beneficial for the author by developing one's academic writing, scientific thinking.
The wellbeing impacts of dance as a physical act is highly investigated matter, which awoke an interest towards the topic: does watching dance have any impacts on one's wellbeing? The study was completed for Routa Company, which is an enterprise producing high quality contemporary art to Kainuu region in Finland. The research was completed during the spring 2018 in Kajaani University of Applied Sciences. The research is focusing only on wellbeing impacts caused by watching contemporary dance, and the data was collected within one dance performance.
The purpose of the thesis was to understand and describe the experiences of the customers of Routa Company, when watching contemporary dance at their premises. The objectives of the research were planned to be reached by arranging a face to face interview with the viewers of one contemporary dance piece called Último. According the theory frame of the study (see the chapters: wellbeing, contemporary dance), it could be predicted that the results of the study would be positive. The results were analyzed by using content analysis.
The study showed, that watching dance supports ones wellbeing by taking the thoughts off of daily life and personal sorrows. When watching contemporary dance, the examinees felt, that the attention is only in the moment. Watching dance was experienced both physical, and psychical. The examinees seemed to enjoy the music and movement, some felt dizziness due to watching spinning, and someone felt the dance clearly in chest area. It was mentioned, that music has a great effect on the watching experience. The most important sources were Kokemus (2002) by Haaparanta and Oesch, Tutki ja kirjoita (2009) by Hirsjärvi, Remes and Sajavaara as well as Johdatus laadulliseen tutkimukseen (1998) by Eskola and Suoranta.
Kokoelmat