Complexity, Unpredictability and Maritime Safety
Salokannel, Johanna (2018)
---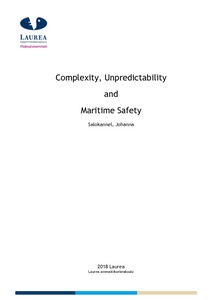 Laurea-ammattikorkeakoulu
2018
All rights reserved
Julkaisun pysyvä osoite on
http://urn.fi/URN:NBN:fi:amk-2018080714440
Tiivistelmä
Shipping is considered a relatively safe form of transport, but seafaring is still seen as a high-risk profession. Increasing automation, high economical pressure, decreasing crew size, increasing ship size, and new high-risk routes like the Arctic all introduce complexities into seafaring. One single accident, although very rare, gains a lot of international attention (e.g. Costa Concordia). Human error is stated as the cause of maritime accidents in approximately 80% of the cases. However, new safety thinking sees "human error" as too narrow and simplistic of a reason for accidents. Complexity of systems makes it difficult, if not impossible, to predict all possible paths to failure. Due to this uncertainty, the safety guards to prevent failures are most likely also insufficient. The unpredictability of exact future events requires humans to adapt and adjust performance according to the situational needs of unexpected events. This capability of performance variability is a crucial factor to ensure safety.

The objective of this thesis is to understand the element of complexity and its impact on safety especially in shipping, and find answers to how safety can be managed and led if we do not know or cannot predict all risks. This thesis is a study and analysis of theoretical and professional literature. The aim is to connect and reflect the theoretical framework into practice using maritime articles.

The main findings are that humans, the ones at the sharp end doing the actual work, are vital for safety development. Safety can be seen as an emergent property of a system, which is dynamic and possibly changing from one moment to the next. Safety is not something that is once achieved and then left in a static mode, but something that is dynamically created again and again. Shipping has developed its safety by studying past accidents. Due to complexity, the specific situational conditions for an event in a particular space and time can be completely different for the similar event in another moment of space and time. Hence, safety is also situationally bound. Therefore, hindsight and study of past accidents might not be sufficient to develop safety. In order to understand and ensure success, shipping should also study and focus on success, not only failure.

The safety of shipping is widely seen as the result of compliance to rules, regulations and best practices. Complexity, however, requires more flexibility in rulemaking to ensure correct adjustments of performance. One way to manage safety in the area of flexible rule making is commitment to core values, which in shipping can be seen as the concept of "Good Seamanship". Safety is an integral part of seamanship, even though it might lie very deep in the tacit knowledge of professional seafarers. Therefore, this thesis also demonstrates that safety is much more than safety management systems, written rules and written international codes. Safety lies in the minds of humans, their attitudes and decisions leading to action in a particular moment that is usually successful. This also highlights the importance of leadership in safety development.
Kokoelmat