Arbetsrelaterad stress inom Hospitality industrin : En fallstudie om chefers arbete för medarbetares välmående på arbetsplatsen
Nordlund, Cassandra; Johansson, Sophie (2018)
---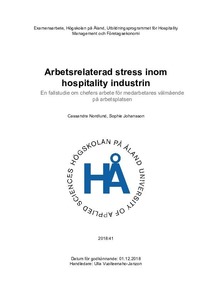 Nordlund, Cassandra
Johansson, Sophie
Högskolan på Åland
2018
All rights reserved
Julkaisun pysyvä osoite on
http://urn.fi/URN:NBN:fi:amk-2018120420086
Tiivistelmä
Denna fallstudie har som syfte att forska vidare hur ett och samma hospitality företag jobbar
med att motarbeta arbetsrelaterad stress och psykisk ohälsa bland sina anställda. Samt hur en
bra arbetsmiljö byggs upp där personalen känner sig bekväm. Bisyftet är att undersöka hur
medarbetarna upplever att cheferna arbetar för att motarbeta uppkomsten av arbetsrelaterad
stress, psykisk ohälsa och dålig arbetsmiljö.
Undersökningen baserar sig på kvalitativa intervjuer med avdelningschefer, samt en
kvantitativ enkät med medarbetarna. Teorierna baserar sig på är
krav-kontroll-(stöd-)modellen, KASAM och salutogent ledarskap samt en närmare
beskrivning av stress, arbetsrelaterad stress och arbetsmiljö.
Av resultatet framkommer att cheferna jobbar aktivt med att förebygga arbetsrelaterad stress
och psykisk ohälsa samt att förbättra arbetsmiljön. Men att det av ekonomiska skäl inte alltid
går hela vägen fram. Medarbetarna anser i medeltal att arbetsmiljön är bra och att chefer
jobbar med att förbättra den. Arbetsrelaterad stress förekommer men vi kan inte bevisa att
psykisk ohälsa finns
The purpose of this case study is to further research how a hospitality company works with
preventing work related stress and mental health issues among its employees, also how you
can build a healthy working environment where the personel feel comfortable. The
secondary purpose is to investigate how the staff experience what their superiors do to
prevent the occurence of work related stress, mental health issues and bad work
environments.
The investigation is based on quality interviews with department managers, and an extensive
inquiry with the employees. The theories is based on a demand-control-(support-)model,
KASAM, also a salutogenic management together with a closer description of stress, work
related stress and work environment.
From these results we can see that the superiors work actively with preventing work related
stress and mental health issues as well as improving the work environment, but due to
financial issues, they can not always follow through. Overall the employees consider the
work environment healthy and that their bosses continue to improve it. Work related stress
still occurs but we can not prove the existence of mental health issues in the workplace.
Kokoelmat