Enterprises Energy Sustainability: ICT Approach
Terekhova, Anna (2010)
---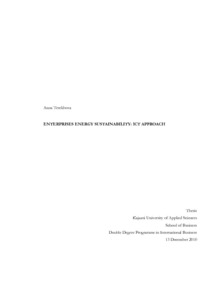 Kajaanin ammattikorkeakoulu
2010
All rights reserved
Julkaisun pysyvä osoite on
http://urn.fi/URN:NBN:fi:amk-2010121418150
Tiivistelmä
Growing concern about the environment, specifically global warming and climate change, is putting pressure on businesses to reduce their emissions of carbon dioxide (CO2) and other GHG. Energy efficiency is the most effective GHG reduction opportunity for the near future; therefore enterprises are forced by political, economic and other forces to control their energy consumption. Regulatory compliance, public pressure, growing energy costs appear to pressure businesses of all types.
The challenge creates a market opportunity for ICT providers to develop solutions that quantify emissions and energy consumption, and help enterprises to manage their businesses more sustainably. The market for such Enterprise Carbon and Energy Management (ECEM) solutions is characterized by complexity and immaturity. As a result, enterprises are only partially aware of the benefits of such IT solutions.
The purpose of the present study was to determine if business opportunities already exist for the ICT sector and if the market for ECEM software is not too immature for the introduction of the new offering by T-Systems International GmbH. The study also sought to figure out the possible drivers for companies to implement the ECEM software. The qualitative marketing research was conducted in order to precisely describe the market environment for the ECEM software. The research methods were the experts' interviews and the online survey for Chief Information Officers (CIO) of German medium size and large enterprises. The market immaturity and the low level of awareness among the CIOs were confirmed. The main driver for implementing the ECEM software was identified as the cost saving opportunity through the increase of the operational efficiency and the decrease of the company's energy costs. These results are consistent with previous studies of McKinsey and Forrester analysts showing that ICT providers have significant business opportunities in the enterprises' trend toward the sustainability management.
Sowohl in der Politik als auch in der Wirtschaft wird immer mehr über verschiedensten Maßnahmen und Lösungsansätzen diskutiert zu Bekämpfung der CO2 Emissionen. Dazu gehört der Einsatz von IKT-Lösungen zur indirekten Vermeidung bzw. Verringerung von Emissionen in verschiedensten Branchen und Industrien. Durch die Anwendung dieser Lösungsansätze entsteht ein CO2e- Reduktionspotenzial von rund 194 Mill. Tonen. Dieses Potenzial ist mehr als achtmal so hoch wie die gesamten im Jahr 2007 durch die gesamte IKT Branche verursachten Emissionen (Smart 2020 Deutschland).
Doch wie gut kennen die Unternehmen diese Art von Emissionsbekämpfung wirklich?
Schließlich gewinnt der Faktor Energie für weite Teile der Weltwirtschaft an strategischer Bedeutung. Produkte und Prozesse nach Kriterien der Energieeffizienz zu optimieren, erzeugt einen nachhaltigen Kostenvorteil für Unternehmen und Verbraucher. Unternehmen müssen sich ebenso wie Privathaushalte auf langfristig hohe Energiekosten einstellen.
Im Rahmen meiner Bachelor Arbeit führe ich eine wissenschaftliche Marktforschung durch. Aus den Informationen versuche ich zum einen Rückschlüsse zu ziehen über die Bedeutung des Themas Energieeffizienz in den Unternehmen und zum anderen die Nachfrage nach speziellen IT-Lösungen herauszufinden, die zu Verbesserung der Effizienz und einer Verringerung der CO2-Emissionen der Unternehmen verhelfen.
Kokoelmat