Maintenance of Hip and Core Areas for Ice Hockey Goaltenders- A Video Training Guide
Tuppurainen, Juuso (2021)
---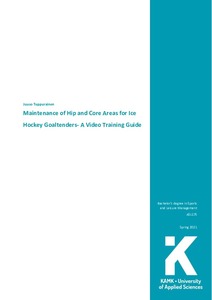 2021
Julkaisun pysyvä osoite on
http://urn.fi/URN:NBN:fi:amk-202104235553
Tiivistelmä
Abstract
Author: Juuso Tuppurainen
Title of the Publication: Maintenance of Hip and Core Areas for Ice Hockey Goaltenders- A Video Training Guide
Degree title: Bachelor of Sports and Leisure Management
Keywords: ice hockey, goaltending, hip area, maintenance, injury prevention, core, training
The purpose of this thesis was to serve as a manual for off-ice training for ice hockey goaltenders and coaches. The anatomy of the hip and core areas were studied and reflected to the requirements of playing as a goaltender. The research showed that hip and core training are vital for goaltenders' performance and health. The goal for the thesis process for the author was to gain insight in the problems surrounding the hip and core areas. Existing literature showed that there are multiple problems in terms of hip and core areas for goaltenders, and for some of the issues, the mechanism of an injury is slightly unclear. The most vital muscles for goaltenders were identified, both in terms of the hip and core areas, their effect was studied and presented, and then a training plan was created to develop those muscles.
To summarize the literary review, the hip and core area muscles are vital in terms of injury and issue prevention of the hip area. In terms of the most vital muscles, it was found out that when considering the internal rotators, the muscles are the adductors and abductors, the gluteus minimus and medius, the tensor tascia latae. The muscles involved in the external rotation are also vital. Some of them include the gluteus medius and minimus and the lateral rotators. Improvements in core and hip area muscles will prevent an incorrect posture, in which the bottom of a goalie drops towards the ice and their knees spread out. This causes stress to the hip area.
During the thesis process, a wealth of new knowledge was gained by the author. The effect of specific muscles, and mainly the key finding that core area strength and control are a factor in the stress caused to the hip area. The product is a video manual/training routine designed specifically for ice hockey goaltenders. The exercises in the product are chosen because they target the specific, most vital muscles for goaltenders. Training those muscles may reduce the risk of hip injuries. The video manual will serve as a helping tool for goalies and goalie coaches in planning off-ice training.
For future, more extensive studies of the hip and core areas would be extremely beneficial, e.g., the effects of given training methods, ways to recognize weaknesses and warning signs.
Kokoelmat