A systematic approach to Solid Waste Management in Bangladesh following the Finnish system
Islam, Rakibul; Rahman, Md. Obaidur (2015)
---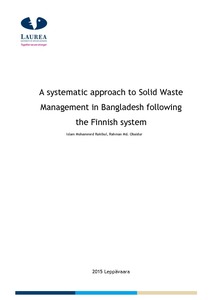 Islam, Rakibul
Rahman, Md. Obaidur
Laurea-ammattikorkeakoulu
2015
Creative Commons Attribution 3.0 Unported
Julkaisun pysyvä osoite on
http://urn.fi/URN:NBN:fi:amk-201502112115
Tiivistelmä
Nowadays Solid Waste Management (SWM) is recognized worldwide. The World Health Organization (WHO), the European Union, and Environmental Protection Agency (EPA) have emphasized the need to handle and dispose of waste to make a clean and green environment all over the world.
The research objective is to propose a sustainable and integrated solid waste management in Bangladesh by following the Finnish waste management system partially or fully. Finland has already developed an effective method of waste management with some leading companies such as L&T, SOL, ISS and others, and developed an ideal solid waste management system. On the other hand, Bangladesh does not have any effective solid waste management system yet.
As a result, Bangladesh needs to implement an effective waste management system as soon as possible and it is perhaps beneficial to follow a developed country's method. Although, the weather, culture, and society are different in Bangladesh, but they can take some suitable methods from Finnish system and make its own implementation plan.
At present, solid waste in Bangladesh is being handled like any other type of waste and it is placed in concrete enclosures/container or simply dumped on the street. From there it is loaded manually into waste carrying trucks by street sweepers and disposed at the landfill. Both in the street and the landfill, the waste or solid waste is subjected to scavenging. Due to the character of waste, this way of handling may cause health hazards to the people who are involved in the handling, and both the street sweepers and the scavengers cause damage to the environment. In this thesis, existing waste management of Dhaka City will be assessed to clarify the present handling, storage, transport, and treatment and disposal system of waste. Waste generated in Dhaka City is varied in composition and in quantity. It is important to know what type of Waste is generated in Dhaka City to execute proper treatment and disposal of solid waste.
Eventually, the first and most important part of a waste management is to raise awareness about the proper waste management system. How to separate waste at the source place, how to collect for dumping, and all the details can be published in a brochure, and giving information to the public in all possible ways of advertising. Thus, raising awareness will solve the waste generating problem gradually. Afterwards, it will be easier for other companies or the government to handle the rest of the waste properly. Although raising awareness is going to take time, we have to be patient to make fitting laws for the convenient waste management system by this time. Thus, we can hope for a clean and green Bangladesh. Gradually the whole country can come under the umbrella of proper solid waste management.
In this research work different literature, articles, reports, journals were reviewed and analyzed to establish a sustainable framework for solid waste management which complements the objectives of this thesis. Moreover, in the thesis the researchers mostly use a qualitative approach to make a fruitful solution for solid waste management. The research shows that integrated solid waste management can be achieved in Bangladesh by launching sustainable plan, environmental friendly policy, and working together to make a green Bangladesh.
Kokoelmat