Effect of Raw Materials (Currants and Apples) on the Processability and Quality of Finnish Country Fruit Wines
Lento, Sanna; Pirttijärvi, Tuija; Hasu, Mikko (2010)
---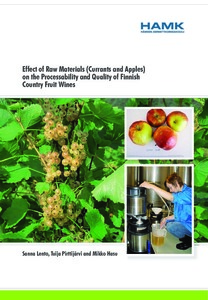 Lento, Sanna
Pirttijärvi, Tuija
Hasu, Mikko
Editoija
Sanna Lento, Tuija Pirttijärvi, Mikko Hasu
HAMK University of Applied Sciences
2010
Julkaisun pysyvä osoite on
http://urn.fi/URN:ISBN:978-951-784-525-0
Lähdeviite:
Lento S., Pirttijärvi T., Hasu M., (2010). Effect of Raw Materials (Currants and Apples) on the Processability and Quality of Finnish Country Fruit Wines. Sanna Lento T. (Ed)., In: HAMKin e-julkaisuja 11/2010, HAMK University of Applied Sciences.
URN:ISBN:978-951-784-525-0
Tiivistelmä
The aim of this project was to investigate the significance of the most common raw materials – apple and currant varieties – on the winemaking process and the quality of the end product. The study encompassed fruit varieties that were already commonly in use, as well as new varieties that had shown promise in cultivation tests. In all, the study looked at 16 apple varieties
and 21 currant varieties.

The project also investigated the effect of water on wine quality. Ordinary, good-quality tap water from three different regions was used in whitecurrant wine production.
Kokoelmat