Promoting Engagement Through Means of Gamification : Case: A Saudi Arabian Massive Open Online Courses Platform
Sharif, Mussab (2013)
---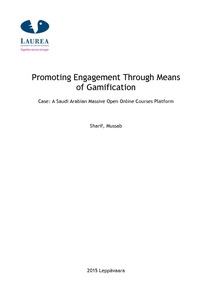 Laurea-ammattikorkeakoulu
2013
Creative Commons Attribution-NonCommercial-ShareAlike 3.0 Unported
Julkaisun pysyvä osoite on
http://urn.fi/URN:NBN:fi:amk-201504114205
Tiivistelmä
The purpose of this thesis is to study customer engagement in the context of online education services, represented by Massive Open Online Courses (MOOCs). Online education has provided a means to reach a larger student audience, where the barriers of time, space, location, and accessibility have been broken compared to traditional forms of education. Within the online education space, MOOCs have gained a great attraction in recent years due to their massive enrollment rates. MOOCs are free, informal, collaborative and student-centered when it comes to responsibility for learning.

Despite the high student enrollment numbers in MOOCs, they have not managed to get completion rates that are comparable in any way to traditional means of education. Based on studies done by MIT & Harvard on 840,000 students across 17 courses delivered as MOOCs, 4% was the average completion rate of the students. However, recent studies have shown that students have different aims and goals when it comes to MOOCs, and completion for some of them is not the end goal when it comes to education in MOOCs. Hence, a gap exists between what is traditionally seen as a goal from educational providers' point of view and what students foresee as goals.

Therefore, a deeper look that goes beyond the completion rates is needed to understand the different aspects of MOOC service experience. Getting more into student expectations, motivations, and journeys with the aim to help elevate and enhance the overall MOOC learning service experience could yield better outcomes. In this sense, student engagement was hypothesized as the area of study and focus, which could help in elevating and enhancing the outcomes of MOOCs. Hence, an empirical and exploratory study was done on the biggest MOOC platform focused on native Arabic-speaking people named RWAQ. The study found that student engagement is one of the major issues that contribute to affect the overall value perceived out of MOOCs. As an example, issues like the absence of clear progression paths for students, limited teacher interactions, poor content design, and many other issues contribute to affect and lower student engagement within MOOCs.

To help solve engagement issues, gamification was suggested as a solution framework to pro-mote and enhance different engagement dimensions. Gamification is the science of using game tools and methods in a non-game context where it is in itself a blend of disciplines that can help improve emotional, cognitive, behavioral and societal engagement dimensions of services. Hence, MOOCs can be motivational, relatively challenging, behaviorally optimized, social and fun for students.

In conclusion, the results of the study confirmed the positive effect of student engagement both on the value of the MOOC and its service experience. Therefore, in general, enhancing customer engagement helps to elevate services to be more satisfactory and fulfilling, and increases the value of services performances. Hence, this study can be used as a base to under-stand engagement in services, in general, with the aim to enhance the co-created value of services by using engagement as means to achieve that.
Kokoelmat