Communicating university brand via social media : case: communicating Lahti University of Applied Sciences brand to international students using social media
Huynh, Thanh; Nguyen, Nam (2015)
---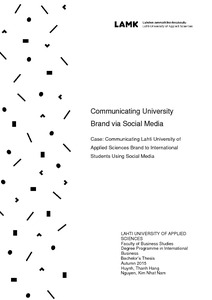 Lahden ammattikorkeakoulu
2015
Creative Commons Attribution-NonCommercial-ShareAlike 1.0 Finland
Julkaisun pysyvä osoite on
http://urn.fi/URN:NBN:fi:amk-2015100715214
Tiivistelmä
The Finnish University Act 2009 has brought about a tide of change across all higher education institutions in Finland. From state-own entities, Finnish universities are transforming and reshaping their structure into corporations subject to public law or foundations subject to private law. Obeying the law as well as responding to the mega trends in educational sector, in 2015, Lahti UAS changed officially into Lahden Ammattikorkeakoulu Oy (equivalent to Lahti University of Applied Sciences Limited- Lahti UAS Ltd). Since then, Lahti UAS has adopted coporate-like business model with an appointed CEO to manage its international affairs. The school is also interested in applying business practices, especially in branding, to enhance its international images.
This dissertation expresses the authors' aim to explore and provide specific guidelines to Lahti UAS which may be implemented on its social media channels. These guidelines are to leverage Lahti UAS' attractiveness to potential international students via social media. Through the comparison with benchmark universities, findings will be drawn from collected information to enable the authors to propose detailed recommendations that will satisfy their main research question in this paper.
The authors select a deductive approach to conduct this dissertation, and they will utilize a mixed method of both qualitative and quantitative approaches to collect and analyze the raw data. To obtain primary data for research, the authors will use survey and observation as two main techniques. Secondary data will be gathered through publications such as books, electronic journals and also from Internet sources.
The findings show that when compared to other benchmarks, Lahti UAS is on the right track in managing its social media presence and is investing an acceptable amount of effort into promoting its international image. However, there is still room for improvements in different aspects. Lahti UAS may consider reaccessing some channels among its social media assets to apply possible changes which will enhance the effectiveness of its brand communication to international students on social media.
In a nutshell, the authors are successful in fulfilling their research objectives in this dissertation, which is finding recommendations for Lahti UAS to improve its social media performance. The results are researched and analyzed in a structured manner and are highly valid and reliable. In addition, because the study in this dissertation has an iterative nature, Lahti UAS can reuse the knowledge provided in this dissertation in the future.
Kokoelmat