Storytelling som marknadsföringsverktyg: Case Strandis
Myntti, Emilia (2015)
---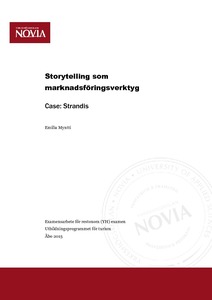 Yrkeshögskolan Novia
2015
All rights reserved
Julkaisun pysyvä osoite on
https://urn.fi/URN:NBN:fi:amk-2015112317342
Tiivistelmä
Abstrakt
Detta examensarbete har som syfte att redogöra för hur storytelling kan användas som marknadsföringsverktyg och - mer specifikt; hur den lokala historien kan tillämpas inom ramen för ett storytellingkoncept.
I examensarbetet redogörs för ett restaurang, camping, och fiskerökeriföretag vid namn Strandis i Larsmo. Platsen där Strandis ligger har allt sedan 1600 talet fungerat som en knutpunkt för olika verksamheter.
För examensarbetet har jag gjort intervjuer med historiker och hembygdsforskare och den vägen fått fram uppgifter om lokalhistorisk verksamhet i området. I grannkommunen Kronoby fanns redan på 1600-talet ett skeppsvarv som byggde stora segelfartyg.
De färdiga skroven lotsades förbi den plats där Strandis är beläget i dag och vidare till Gamla hamn i Jakobstad för att rustas. Här har man också flottat stockar för export. Redan under stockflottningseran fanns i Larsmo en kiosk på den plats där Strandis står i dag.
Jag har i examensarbetet gett förslag på hur historien kan levandegöras och spridas så att den på bästa sätt fungerar som en marknadsföring för företagskonceptet som består av en restaurang, ett café, en affär, ett fiskrökeri och ett campingområde.
Arbetet bygger på en teoretisk referensram inom storytelling. Resultatet är en "Strandis story" och en plan för hur den berättelsen kan implementeras. Bland annat ges förslag till tavlor med bildtexter som kan hängas upp i restaurangen.
Summary
The aim of this Bachelor´s thesis is to explain how storytelling can be used as a marketing tool and more specifically; how local history can be applied within the framework of a storytelling concept.
The thesis outlines a restaurant, camping, and fish smoking company named Strandis situated in Larsmo. The place where Strandis is located has since the 1600s served as a hub for various activities.
For the thesis I have conducted interviews with historians and local history researchers to get data on local history activities in the area. In the neighboring municipality Kronoby already existed in the 1600s a shipyard which built large sailing ships.
The finished hull was piloted past the place where Strandis is situated today and further on to the Old Port of Jakobstad to be refurbished. Logs have also been floated and exported abroad. Already in stock fleet scaffolding age there was a stall at the place where Strandis stands today.
In the thesis I have suggested how history can be brought to life and spread so that it best serves as a marketing business concept, which consists of a restaurant, a café, a shop, a fish smokehouse and a camping area.
The work is based on a theoretical framework of storytelling. The result is a "Strandis story" and a plan how the story can be implemented. These include the proposal for pictures with captions that can be hung in the restaurant.
Kokoelmat