Marketing research for customer service development of a sport store
Reinola, Topi (2015)
---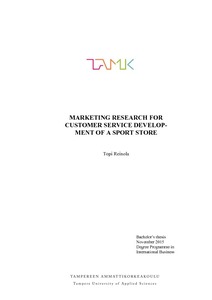 Tampereen ammattikorkeakoulu
2015
All rights reserved
Julkaisun pysyvä osoite on
http://urn.fi/URN:NBN:fi:amk-2015113018417
Tiivistelmä
The thesis was commissioned by the Stadium sport store located in Lielahti, Tampere. The store is a part of a large Swedish sports retail chain Stadium. The thesis studied four different sport retail stores located in Lielahti, which were Intersport, Sportia, Bud- getsport and Stadium. The stores were compared among consumers to determine their differences when it comes to customer service and to chart the demographics of the con- sumers. The chosen stores are all considered to be direct competitors of Stadium in Lielahti, which is the most densely competed area of sport retail business in Finland.

The purpose of the thesis was to find development suggestions for the customer service of the commissioner. Quantitative research was used to collect primary data by conduct- ing a questionnaire survey. The secondary research was done in order to find out the strengths and weaknesses of Stadium and to determine the demographics of the customers of Lielahti area. The survey was executed in a multiple-choice format and the questionnaire had one open question. The most important parts were the three questions where respondents were asked to rate different characteristics of the store services on a scale of one to five. This method was chosen to provide the commissioner with a wide range of standardized data and to distinguish stores more clearly.

Survey data showed that fifty-five percent of the respondents were female and fortyfive percent male. Most respondents in the Lielahti area were shopping with their family, meaning one or both parents with one or more children and other respondents were shopping either alone or with a friend or a spouse. The respondents were asked to rate the service contact speed, service quality and the appearance of the stores individually and Stadium was the top rated store in each category. Perhaps the most interesting section of the survey concerned the shopping behaviour and store selection of the consumers. The respondents were asked if they would visit only one store during their trip or others as well. Over half of the respondents told that they visit all of the stores and over eighty percent stated that they visit at least one other shop. This information concerning the consumers of the area provides a clear incentive for the stores to maintain an out- standing quality of customer service to make the most out of every customer. Clear strengths of Stadium that were found out are the service contact speed and quality. The only weakness that was found is the flexibility concerning different services.

The survey data was fairly even on all of the questions, but some distinctions can be made based on the responses. The commissioner store Stadium has a strong foot in the race of Lielahti area sport retail business as evidenced by the positive opinions from the survey responses. Any clear actions for customer service development did not surface, but as always with services, constant improvement is important.
Kokoelmat