- Huom! Theseus-tuki on poissa käytöstä teknisten huoltotöiden takia 11.–15.10.2019. Ongelmatilanteessa ole yhteydessä oman ammattikorkeakoulun kirjastoon. - Theseus Support-e-post är ur användning 11.–15.10.2019. Om du har problem, vänligen kontakta ditt eget UAS-bibliotek. - Theseus Support e-mail is out of use 11.–15.10.2019. In case of problems please contact your own UAS Library.
Diabetes och amning : En systematisk litteraturöversikt om amningsbeteende hos kvinnor med diabetes
Gustafsson, Tina (2015)
---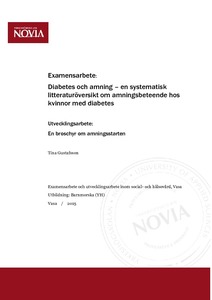 Yrkeshögskolan Novia
2015
All rights reserved
Julkaisun pysyvä osoite on
http://urn.fi/URN:NBN:fi:amk-2015112718147
Tiivistelmä
Examensarbete:
Diabetes är en av de vanligaste komplikationerna vid graviditet och förlossning och innebär risker för både mor och barn. Efter förlossningen följer amning. WHO rekommenderar exklusiv amning under de första sex månaderna bl.a. eftersom det innebär många hälsoeffekter för mamman och barnet. Men det finns uppgifter om att kvinnor med diabetes inte ammar i samma utsträckning som övriga mammor.
Syftet med det här arbetet var att kartlägga amningen hos kvinnor med diabetes och hitta eventuella förbättringsområden. Forskningsfrågorna löd: I vilken utsträckning ammar kvinnor med diabetes? Vilka faktorer har betydelse för amning hos kvinnor med diabetes? Finns det skeden där stödet från vården/barnmorskan är extra viktigt? Datainsamlingen var en kvantitativ systematisk litteraturöversikt som resulterade i tolv vetenskapliga artiklar. Dessa sattes in i en tabell och artiklarnas slutsatser presenteras i en egen tabell. De viktigaste resultaten presenteras i textform.
Eftersom studierna omfattade typ 1 diabetes, typ 2 diabetes och graviditetsdiabetes i olika föreningar blev det svårt att sammanställa resultatet. Det visade dock att kvinnor med typ 1 diabetes eller diabetes före graviditet ammar i lägre utsträckning än kvinnor utan diabetes. Resultatet för graviditetsdiabetes var mer varierat. Faktorer för amningen hos kvinnor med diabetes var likartade med den övriga befolkningen. Eftersom amningsincidensen hos kvinnor med diabetes var lägre vad gäller avsikt att amma, att börja amma och amningslängd, kan det behövas ett genomgående ökat stöd. Tidig amning eller det första amningstillfället verkar vara ett viktigt skede för stöd när det gäller att lyckas med mer långvarig amning. Vilket slags stöd som behövs för dessa kvinnor kräver fortsatt forskning.
Utvecklingsarbete:
Nyfödda barn till kvinnor med diabetes behöver ett särskilt omhändertagande. De kräver ofta tillmatning första dagarna efter förlossningen för att undvika för låga blodsockernivåer. Tillmatningen kan störa den naturliga amningsprocessen och göra
att amningsstarten för kvinnor med diabetes blir utmanande. Syftet med det här utvecklingsarbetet är att informera och förbereda blivande mammor med diabetes om vad som kan väntas under de första dagarna efter förlossningen vad beträffar
amningen och vården av deras nyfödda barn. För detta har en broschyr skapats (bilaga 1).
Broschyren bygger på de lokala förhållanden och föreskrifter som finns på Akademiska sjukhuset i Uppsala. Den är ett komplement till den amningsinformation som delas ut till alla gravida. Den tar upp barnets utgångsläge, procedurer kring barnet, praktiska tips och amning ur mammans perspektiv. Fokus handlar om tiden
på BB. Planen är att den skall delas ut under graviditeten på Specialistmödravården till alla kvinnor med diabetes i Uppsala.
Bachelor's thesis:
Diabetes is one of the most common complications for pregnancy and delivery and means risks for both mother and baby. Breastfeeding follows after delivery. WHO recommends exclusive breastfeeding for the first six months due to health effects among other things for both the mother and baby. But it has been said that women with diabetes do not breastfeed to the same extent as other mothers.
The aim for this study was to survey breastfeeding among women with diabetes and find potential areas for improvement. The research questions were: To what extent do women with diabetes breastfeed? What are the factors that affect breastfeeding among women with diabetes? Are there situations where support from health care/midwives is extra important? The data collection was a quantitative systematic literature review that included twelve scientific articles. These were put into a table and the conclusions from each article where put into a separate one. The most important results are commented in the text.
The result was difficult to summarize since the studies covered type 1 diabetes, type 2 diabetes (or pregestational diabetes) and gestational diabetes in different combinations. However it shows that women with type 1 diabetes or pregestational diabetes breastfeed to a lower extent than women without diabetes. The result for gestational diabetes was varying more. Factors that affect breastfeeding among women with diabetes were similar to those for the rest of the population. Since the breastfeeding incidence among women with diabetes was lower concerning intention to breastfeed, starting to breastfeed and breastfeeding duration, an increased support might be needed in general. Early breastfeeding or the first breastfeeding seems to be an important situation for support when it comes to longer duration. What kind of support is needed is yet to be studied.
Development project:
Newborn babies to women with diabetes need special care. They often require formula the first days after delivery to avoid low blood sugar levels. Milk formula might disturb the normal breastfeeding process and make the start of breastfeeding
for women with diabetes challenging. The purpose of this development project is to inform and prepare becoming mothers with diabetes for what might be expected during the first days after delivery concerning breastfeeding and the care of their
newborn infants. For this a brochure was made (appendices 1).
The brochure is based on local conditions and regulations for Akademiska sjukhuset in Uppsala. It is a complement to other breastfeeding information distributed to all pregnant women. It contents basic information on the conditions for the newborn,
procedures around the baby, practical tips and breastfeeding from the mother´s perspective. The focus is the postnatal period in the hospital. The brochure will be handed out during pregnancy by antenatal care givers to all women with diabetes in Uppsala.
Kokoelmat