Afasi efter stroke : En kvalitativ litteraturstudie om egenvård och rehabilitering vid afasi efter en stroke
Björkskog, Evelina (2015)
---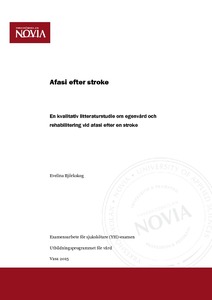 Yrkeshögskolan Novia
2015
All rights reserved
Julkaisun pysyvä osoite on
https://urn.fi/URN:NBN:fi:amk-2015112618024
Tiivistelmä
Syftet med examensarbetet är att klargöra hur en rehabilitering för patienter som har afasi ser ut, och även hur egenvård hos en afasipatient kan tillämpas. Skribenten vill försöka öka förståelsen för vad afasi är och hur viktig rehabilitering är. Frågeställningarna i detta arbete är: Hur ser rehabiliteringen av en patient med stroke och afasi ut? Hur kan en person med afasi och stroke utföra egenvård?
Skribentens teoretiska utgångspunkter är Dorothea Orems teori om egenvård utgående från Kirkevold (2000) och studien är en kvalitativ litteraturstudie innehållande vetenskapliga artiklar. Artiklarna som valts till examensarbetet har sammanställts i en översiktsartikel (bilaga 1). Denna översiktsartikel har analyserats med hjälp av innehållsanalys och därefter har materialet tolkats med hjälp av de teoretiska utgångspunkterna och den teoretiska bakgrunden.
I resultatet kom det fram tre olika kategorier: rehabilitering, egenvård och kommunikation.
The purpose of this study is to clarify how the rehabilitation for patients with aphasia
looks like, and how self-care of an aphasia patient can apply. The respondent wants to
try to increase the understanding of what aphasia is and how important rehabilitation
can be. The questions for this work are: How does the rehabilitation of a patient with
stroke and aphasia looks like? How can a person with aphasia and stroke perform selfcare?
Respondent's theoretical premises are Dorothea Orem's theory about self-care starting
from Kirkevold (2000) and this study is a qualitative literature study consisting of
scientific articles. The selected articles have been compiled into a summary (appendix
1). This summary has been analyzed by a content analysis and then the material has
been interpreted using the theoretical premises and the theoretical background. The
results show three categories: rehabilitation, self-care and communication.
Kokoelmat