Sales training and motivation. Case:LähiTapiola
Virtaniemi, Noora; Patalainen, Elena (2015)
---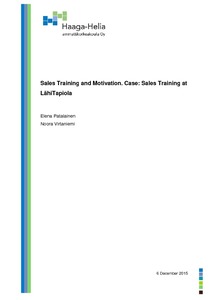 Virtaniemi, Noora
Patalainen, Elena
Haaga-Helia ammattikorkeakoulu
2015
All rights reserved
Julkaisun pysyvä osoite on
http://urn.fi/URN:NBN:fi:amk-2015120619594
Tiivistelmä
The thesis was commissioned by insurance and finance company LähiTapiola. The purpose of this thesis was to identify how to develop sales training for the short term marketing cam-paigns, how to help the company to improve their current sales training and to find out how much training can effect on persons motivation. The goal was to develop a survey system which the company could use in a future to ensure that the quality of the sales training main-tained good. The topic is current because LähiTapiola is training new sales staff continuously and it is important that the company is aware of what works in the training and how it should
be developed.

The research was conducted by using a quantitative approach and data was gathered through online survey. The questionnaire themes were: Skills before and after the training, quality of the training and motivation. Survey was done in two parts since we wanted to conduct a follow-up research. After the first survey we went through the development ideas and did some changes on the sales training. Next we conducted follow-up research to find out if the changes had affected on the survey results. Both times the survey got answers from 12 per-sons who had participated on the sales training.

The theoretical framework is based on literature about sales training, training evaluation and motivation. The main focus is on sales training in general, its impact on job success and ben-efits of evaluation. The theoretical part also concentrates on motivation and its impact on sales training. Theories are based on among the others Eija Kjelin, Chris Noonan, David Kolb, Robert Gabnes, Donald ,Kirkpatrikcks, Manning & Reese and Whittom & Roy.

Both of the researches gave us important information how to develop the trainings in the fu-ture. We were able to make some important changes to the training which proved to be bene-ficial. Even though we received vital information, the research period was rather short and there should be more extensive sampling for us to get more reliable data. We also had rela-tively small group of respondents and because of that the research was limited. That has to be taken into account when evaluating research results.
Kokoelmat