Förekomst av ogräs och skördenivån i vårrapsodling beroende på planttäthet och användning av herbicid
Ståhls, Patrick (2015)
---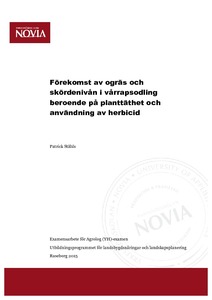 Yrkeshögskolan Novia
2015
All rights reserved
Julkaisun pysyvä osoite on
http://urn.fi/URN:NBN:fi:amk-2015120819836
Tiivistelmä
Rapsodlingen i Finland är en bra möjlighet för en konventionell spannmåls-jordbrukare att odla mångsidigare. Oljeväxterna fungerar som en bra mellanväxt i växtföljden för att minska växtsjukdomar och har dessutom en positiv inverkan på markstrukturen.
Det finns en stor variation i rekommendationerna för utsädesmängden som skall användas vid sådd. Med en större utsädesmängd och högre planttäthet vill man minska på riskerna vid odlingen i ett tidigt skede av växtperioden. Den höga planttätheten är ofta onödig då rapsen är mycket konkurrenskraftig vid en snabb groning och plantbildning. I slutet av växtperioden kan ett lägre plantantal och glesare bestånd minska risken för växtsjukdomar och öka avkastningen. Hypotesen med försöket var att en lägre beståndstäthet inte behöver leda till en lägre avkastning, åtminstone inte då ogräsen bekämpas med herbicider.
Bekämpningen av ogräsen med en herbicid resulterade i en skördeökning. Bekämpningen var lönsam i detta försök. Användningen av en högre mängd utsäde gav en skördeökning på både de behandlade rutorna och de obehandlade rutorna. På de behandlade rutorna var skördeökningen för lite att täcka en dubbelt större utgift till utsädet. Det lämpliga alternativet var således en lägre beståndstäthet kombinerat med en herbicidinsats.
The cultivation of rape is a good opportunity for a conventional grain farmer to grow more diversely in Finland. Rape is good preceeding crop which reduces the risk for plant diseases and has a positive effect on soil structure.
There is a wide variation in recommendations for the amount of seed to be used for sowing. A larger amount of seed and a higher plant density reduces the risks involved at the early stages of the growth season. A high plant density is seldom necessary since rape is very competitive especially when the growth is fast. At the end of the growing season there are positive effects with using a lower plant density to increase yield and to reduce the risk of plant diseases. The hypothesis of the experiment was that a lower plant density would not result in a loss of yield, given that weeds are controlled with a herbicide.
The treatment where herbicides were used against weeds resulted in an economically profitable increase in yield. Using a higher seed amount gave a higher yield regardless of whether herbicides had been used or not. A higher plant density in combination with herbicide application did not cover the additional expense for the seed. Thus, a lower plant density can be recommended, given weed control with herbicides.
Kokoelmat