Egenvård : Ergonomiska rekommendationer i vardagen
Nylund, Lola (2015)
---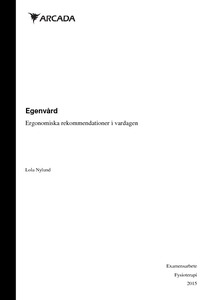 Yrkeshögskolan Arcada
2015
All rights reserved
Julkaisun pysyvä osoite on
http://urn.fi/URN:NBN:fi:amk-2015120919994
Tiivistelmä
Detta examensarbete är gjort på beställning av Vanda stad. Syftet med arbetet är att ta reda på de senaste rekommendationerna inom ergonomi och sammanställa dem till ett
svenskspråkigt och användarvänligt material. Materialet ska sedan publiceras på Vanda stads hemsida om egenvård så att invånarna kan ta del av den kunskapen för att främja sin hälsa. Metoden är ett praktiskt inriktat arbete, där evidensbaserat material har sammanställts till produkten, som är texten till hemsidan. Arbetsprocessen i detta praktiska
arbete baseras på rekommendationerna i Vilkka & Airaksinens (2004) bok Toiminnallinen opinnäytetyön ohjaajan käsikirja. Arbetet har tre frågeställningarna: Vad säger forskningen om ergonomiska rekommendationer och ergonomins effekt? Vilka praktiska knep kan man använda sig av för att förbättra sin ergonomi i vardagen? Hur förmedlar man kunskap via en elektronisk hemsida på internet på ett bra sätt? Den teoretiska referensramen innehåller hälsofrämjande, health literacy, kunskapsförmedling via internet (eHälsa) och de ergonomiska rekommendationerna och det är denna kunskap som har använts i framställningen av materialet till hemsidan. I kapitlet Resultat presenteras den
forskning som sökts för att stöda de ergonomiska rekommendationerna som presenteras
i produkten. Svar på frågeställningarna framkommer både i den teoretiska bakgrunden
och i resultatet. Arbetets produkt presenteras i en bilaga sist i arbetet.
This degree thesis is a work requested by Vanda city. The purpose of this thesis is to find
out the latest recommendations in ergonomics and compile them into a user friendly material in Swedish. The material will later be published on Vanda city's website about selfcare, so that the people can receive the knowledge and promote their health. The method
of this thesis is the practice-based method, where evidence based material has been compiled to the product, which is the text to the website. The work process in this practicebased thesis is based on the recommendations in the book Toiminnallinen opinnäytetyön
ohjaajan käsikirja written by Vilkka & Airaksinen (2004). This thesis has three research questions and they are: What do the research say about ergonomic recommendations and the effect of ergonomics? What practical tips can you use in the everyday life to improve your ergonomics? How do you share knowledge through an electronic website in a good way? The theoretical framework consists of health promotion, health literacy, sharing knowledge through the internet (eHealth) and the ergonomic recommendations and it is this knowledge that have been used to produce the material to the website. Presented in the chapter Resultat (results) are the results of the literature research that supports the ergonomic recommendations that are presented in the product. The answers to the research questions are presented both in the theoretical framework and in the results. The product of this thesis is presented in the appendix, which is on the last pages.
Kokoelmat