Patientinformation om ultraljudsundersökningar
Hällund, Michael; Fogde, Robin (2015)
---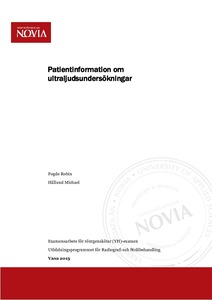 Hällund, Michael
Fogde, Robin
Yrkeshögskolan Novia
2015
All rights reserved
Julkaisun pysyvä osoite on
http://urn.fi/URN:NBN:fi:amk-2015121721316
Tiivistelmä
Syftet med lärdomsprovet är att göra en produkt i form av ett informationsblad för patienter som skall genomgå en ultraljudsundersökning och därmed underlätta informationsutbytet mellan läkare och patienter så att det i praktiken sker så få misstag i förberedelse skedet som möjligt. Detta kan i sin tur leda till att även personalen kan uppleva en viss trygghetskänsla samt känna sig säkra när patienterna får hem ett infoblad om undersökningen så att de vet hur de skall vara förberedda inför en
ultraljudsundersökning.
Lärdomsprovets forskningsfrågor är: Vad är ultraljud? Hur används ultraljud vid en undersökning? samt Vilken betydelse har ultraljud för patienten? Dessa frågor som tas upp har patienten som fokus och därmed baserar sig arbetet på hur god kunskap och delgivning av information kan få en patient att känna sig säkrare samt mera medveten om vad som kommer att ske vid ultraljudsundersökningen. I teoretiska bakgrunden behandlas ämnet ultraljud i större utsträckning och frågorna vad, hur och varför besvaras. God patientkontakt, trygghet och bra information är grundstenarna för en lyckad ultraljudsundersökning, därav har vi valt just information, trygghet och säkerhet. Metoden för studiens genomförande använde sig respondenterna av intervjuer med läkare och röntgenskötare.
Vad respondenterna kom fram till var att information är en viktig del i vården och att en god information kan skänka patienter samt personal säkerhet vilket därmed medför
trygghet när en god patientkontakt har skapats.
The aim of the thesis is to make a product in the form of a leaflet for patients who are to undergo an ultrasonography and therefor ease the informationexchange between doctors and patients so that misstakes will decrease in the preparation stages as much as possible. This may in turn lead to even make the staff experience a certain sense of security and feel safe when patients get home an info sheet about the survey so that they know how to be prepared for an ultrasound.
The thesis research questions are: What is ultrasound? How is ultrasound used for examination purposes and What meaning does ultrasound have for the patients? These
starting points aim to have the patient in focus and base on how good patient contact and knowledge can make a patient feel safer and more aware of what will happen at the ultrasound examination. The theoretical background deals with the subject ultrasound to a greater extent by asking ourselves the questions what, how and why? The respondents framework therefore consists of information, security and safety of the patient in focus. The method of implementation of the study the respondents used interviews with doctors and radiographers.
What the respondents came to was that information is a vital part of care and that good information can give patients and personnel security, and thus feel secure when a good patient contact has been created.
Kokoelmat