Nursing Interventions for Breast Cancer Patients with Postoperative Anxiety : Literature review
He, Ting (2016)
---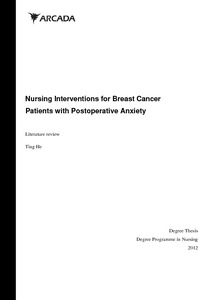 Yrkeshögskolan Arcada
2016
All rights reserved
Julkaisun pysyvä osoite on
http://urn.fi/URN:NBN:fi:amk-201602222502
Tiivistelmä
The overall purpose of this thesis is to discover how nursing interventions on postoperative anxiety for breast cancer patients effect, especially to make nurses' roles clear during the process of helping these patients to reduce their anxiety. The research question for this study is: what kinds of interventions can nurses apply to help breast cancer patients relieve their postoperative anxiety?
The interpersonal nursing theory by Hildegarde E. Peplau is used as the research theoretical framework. This study is a literature review and the method of analysis is qualitative inductive content analysis. Based on the ten selected research articles, the common themes of them were found and summarized into categories and then divided into different subcategories.
The study findings show that nurses can offer breast cancer patients both indirect and direct nursing interventions in order to reduce the postoperative anxiety. The indirect nursing interventions are: to encourage the patients to attend therapies, to improve the patients' physical and social care environments, to give constructive suggestions to the patients' partners or family members for their needs to support them. Furthermore, nurses should also be aware of that their self-emotion can indirectly influence the patients' anxiety. The direct nursing interventions are: to be a consultant by giving informational education, to be a counsellor by offering coping strategies for the anxiety, to be an emotional and psychological supporter by talking and listening to the patients. The thesis finally points out that the communication between nurses and patients is extremely important in order to successfully apply these nursing interventions.
Det övergripande syftet av denna avhandling är att visa om hur omvårdnadsingripande mot postoperativ ångest för bröstcancerpatienter fungerar, särskilt om att tydliggöra sjuksköterskeroll i denna process. Avhandlings frågeställningen är: vilka omvårdnadsingripande kan tillämpas för att hjälpa bröstcancerpatienter lindra deras postoperative ångest?
Det "interpersonal nursing theory" av Hildegarde E. Peplau används som ett teoretiskt ramverk. Denna studie är en litteraturstudie och analysmetoden är kvalitativ induktiv innehållsanalys. Baserat på tio utvalda vetenskapliga artiklarna, har de gemensamma temana funnits och sammanfattas i kategorier och olika underkategorier.
Studiens resultat framgår att sjuksköterskor kan erbjuda bröstcancerpatienter båda indirekt och direkt omvårdnadsingripande för att lindra deras postoperativa ångest. De indirekta omvårdnadsingripande är: att uppmuntra patienter att delta terapier, att förbättra patienters fysiska och sociala omsorgomgivning/vårdmiljö, att ge konstruktiva förslag till patienters partner eller närstående i fråga om behov av att stödja dem. Ytterligare ska sjuksköterskor vara medvetna om att sina egna känslomässiga stämningar kan indirekt påverka patienters ångest. De direkta omvårdnadsingripande är: att spela som en informatör genom att upplysa kunskap, att fungera som en rådgivare genom att erbjuda ångesthanterings strategier, att reagera som stödjande person genom att förklara och lyssna patienters bekymmer. Avslutningsvis poängterar avhandlingen att kommunikationen mellan sjuksköterskor och patienter är oerhört viktig för att lyckas med tillämpande av dessa omvårdnadsingripande.
Kokoelmat