Work Engagement and Its Enhanching : A Case Study at a Finnish Company
Hoikkala, Sirkku (2016)
---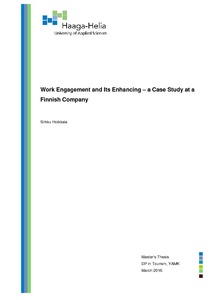 Haaga-Helia ammattikorkeakoulu
2016
All rights reserved
Julkaisun pysyvä osoite on
http://urn.fi/URN:NBN:fi:amk-201603113087
Tiivistelmä
Work engagement, which means a positive state of emotion- and motivation fullfilment at work, is considered as the key to company success today. It can be empirically researched and seen as part of the Positive Work Psychology –paradigm.

The object of this research is to build a case study on the work engagement of permanent employees of an anonymous Finnish company. The goal is to understand and enhance the work engagement and thus improve the motivation and productivity. The research problem is divided into two research questions. Firstly, how is the work engagement at the current situation? This question is researched by a quantitative survey tool called UWES 17 and it results in a numerical grade. Sets of questions concerning job resource factors and the main reason behind the answers are included. The second research question is, how could the work engagement be enhanced? This question contains a clear developing aspect and is researched by a qualitative focus group discussion resulting into thoughts, impressions and ideas. Due to the different nature of the two research questions and the methods used, the research has strong triangulation.

The main findings of the research are following. The work engagement overall grade is high: 4,82. The greatest strengths are the close team and trustworthy relationship with supervisor. The strongest categories of job resource factors are the social and those dealing with the work itself. The employees are proud to work at the company and willing to work vigorously to maintain the famous high quality.

However high the overall grade, there are a few individuals who are very unsatisfied at some particular areas. And also in the big picture, there are challenges. The biggest one is the work load, which understandably cannot be currently helped. In order to enhance the work engagement, the following observations are made. The communication channels are not efficient enough and the employees don't feel getting heard. There is lack of feedback, encouragement and appreciation. The following suggestions are made. Because there is no particular mediator, everybody must put in more effort to become heard. Communication channels should be developed and the already existing one at Facebook used more. The leaders should make sure that the staff gets adequate recognition and feedback and that communication is safe and predictable. A very sensitive issue is the beautiful and simultaneously challenging home atmosphere: the close team is the biggest job resource factor, but sometimes there are tensions when people have different understanding about how "homey" a work place can be. One thing, however, can be safely said: it is never proper to lose temper or behave arrogantly and in disrespecting manner at a work place.

The research being a case study, generalizability outside the company is not attempted. However, the observations and suggestions are very humane and recognizable and might help dealing with the issues of work engagement at other work places as well.
Kokoelmat