Banker och banktjänster i Finland : En undersökning om banktjänster samt en redogörelse för hur bankernas verksamhet har förändrats genom åren
Gustafsson, Fredrika (2016)
---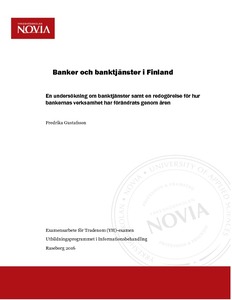 Yrkeshögskolan Novia
2016
All rights reserved
Julkaisun pysyvä osoite on
http://urn.fi/URN:NBN:fi:amk-201604114134
Tiivistelmä
Bankernas verksamhet är relativt okända i dagens läge, vi vet att de finns men tänker egentligen aldrig på vad deras uppgift i samhället är. Det har skett en stor förändring inom bankvärlden, kontanter har bytts ut mot kort och det personliga bankbesöket har bytts ut mot en nätbank.
I mitt examensarbete beskriver jag bankväsendets historia i Finland under 1800- och 1900-talet, samt hur det ser ut i dagens Finland. I mitt arbete utför jag även en undersökning i form av en enkät på nätet, för att ta reda på användningen av banktjänster hos dagens unga finländare. 485 deltagare har deltagit i min enkät, och med hjälp av dessa resultat analyserar och jämför jag med tidigare användning av banktjänster, och kommer fram till en slutsats.
I resultatet av undersökningen kommer det inte helt otippat fram att de flesta använder sig av kort istället för kontanter, besöker inte bankkontoret lika ofta som förr och att de använder sig allt mer av nätbanken. I undersökningen tas det även upp vilka banker informanterna använder sig av, om de använder sig av flera banker än en och isåfall vilken. Många av svaren är vad man kunde förvänta sig, medan några av dem även är överraskande.
Arbetet kan vara av intresse då man t.ex. allmänt behöver information om bankväsendets historia i Finland, eller om användningen av banktjänster.
The operations of the banks are relatively unknown in today's world, we know they exist but we never stop to think about what their purpose in society is. There has been a huge change in the world of banks, cash has been replaced by credit cards and the personal visit to the local bank has been replaced by online banking.
In my bachelor's thesis I have chosen to study the history of banking in Finland during the 19th and 20th century, as well as the present situation in Finland. I have also conducted a survey of the usage of banking services among today's young Finns. I had 485 survey respondents whose answers I have analyzed and compared with earlier usage of banking services, and reached a conclusion.
Not surprisingly, the results of this survey show that most people use credit cards instead of cash, they do not visit the bank as often as before and they use online banking more and more. The results also show which banks my informants use, whether they use more than one bank and in that case which ones. Many of the answers I got were expected, but I also got some surprising answers.
This thesis could be of interest when for example one wants to find out information about the history of banking in Finland, or about the usage of banking services.
Kokoelmat