Skatteplanering i små till medelstora aktiebolag i Finland
Ahlbäck, Sebastian (2016)
---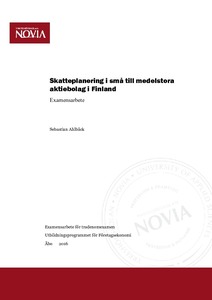 Yrkeshögskolan Novia
2016
All rights reserved
Julkaisun pysyvä osoite on
http://urn.fi/URN:NBN:fi:amk-201604134267
Tiivistelmä
Detta examensarbete behandlar skatteplanering i små till medelstora aktiebolag i Finland. Arbetet ämnar ge en helhetsbild över vad skatteplanering är och varför man skatteplanerar. I arbetet ligger fokusen på skatteplanering ur ett företagsperspektiv och vid ägarbytessituationer.
I den teoretiska delen behandlas beskattningen i aktiebolag, vad skatteplanering är, olika tillvägagångssätt för att skatteplanera och skatteplanering vid ägarbytessituationer. Materialet som används är till stor del lagtexter och Skatteförvaltningens anvisningar. Utifrån litteraturstudierna tillämpas sedan de centrala tillvägagångssätten i praktiska exempel och situationer.
Den empiriska delen utförs genom en kvalitativ undersökning. I denna intervjuas en behörig CGR-revisor, som är insatt i skattefrågor, om skatteplanering samt risker och möjligheter med skatteplanering.
Resultaten från arbetet visar att det inte finns så många olika sätt att skatteplanera, och att det för aktiebolag främst handlar om att skjuta upp skatter till framtida räkenskapsperioder. För att en handling som resulterar i lägre skattebelastning för en skattskyldig ska godkännas av Skatteförvaltningen, bör det ligga affärsekonomiska orsaker bakom handlingen.
This thesis is studying tax planning in small and medium-sized limited companies in Finland. The purpose of this thesis is to give a foreseeable picture of what tax planning is and what purpose it has. The focus lies on tax planning from a business perspective and in situations where the ownership changes.
The theoretical part of the thesis treats taxation in limited companies, what tax planning is, different procedures for tax planning and tax planning in situations where the ownership is changing. The material that is used is mostly the Finnish legislation and official directives from Verohallinto. From the literature studies the central procedures are applied into practical situations and examples.
The empirical part is preformed through a qualitative study. In this a qualified CGR-auditor is interviewed about tax planning and risks and possibilities with tax planning.
The conclusions from this thesis are showing that there are not that many different ways for a limited company to plan taxes, and that planning taxes is mostly used to advance tax payments into future tax years. An act that results in lower tax burden is only approved by Verohallinto if there are business economic reasons behind the act.
Kokoelmat