Utvärdering av föräldraförberedelsen i en stad i Österbotten : En kvantitativ studie om föräldrars uppfattningar av den föräldraförberedande verksamhet de tagit del av
Sipic, Anela (2015)
---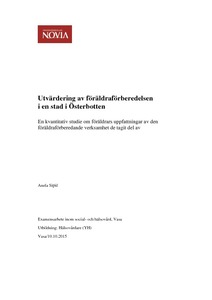 Yrkeshögskolan Novia
2015
All rights reserved
Julkaisun pysyvä osoite on
http://urn.fi/URN:NBN:fi:amk-201604214782
Tiivistelmä
Syfte: Syftet med detta arbete är att utvärdera den föräldraförberedande verksamhet som erbjuds åt blivande föräldrar i en österbottnisk stad. Arbetets beställare, d.v.s. social-och hälsovårdsverket i den aktuella staden, har främst varit intresserad av att ta reda på hur kurserna har uppfattats, samt vilka behov som finns. Målet är att med denna information kunna utveckla kurserna, för att ge kommande deltagare en så positiv upplevelse som möjligt.
Metod: Detta är en enkätstudie med 24 deltagare.
Resultat: En klar majoritet av föräldrarna som deltagit i studien har en positiv upplevelse av den föräldraförberedande verksamheten de tagit del av. När föräldrarna fick välja vilka tre ämnen som var viktigast att diskutera under kursens gång har de valt babyns skötsel, förlossningen och amningen. Samtidigt är föräldrarna mest nöjda med hur den normala förlossningen, smärtlindring under förlossning och amning togs upp under kursens gång. En del har påpekat att det gärna skulle få vara bättre och mera information om amning och babyns skötsel.
Aim: The aim with this study is to evaluate the parental education offered to soon to be parents in an Ostrobothnian city. The client, a social and health authority, in that city is mostly interested in how the parents to be perceive the courses and what kind of needs they have? The goal is to use this information to develop the parental education courses for future participants and make the experience as positive as possible.
Method: Questionnaires that have been answered by 24 participants.
Results: The majority of the parents that participated in the study had a positive experience of the parental education they participated in. When the parents were asked to choose three topics that they considered were most important to discuss during the course, they chose "the baby's care", "childbirth" and "breastfeeding". At the same time, the parents where mostly satisfied with the way, the normal childbirth, pain relief during childbirth and breastfeeding were discussed during the courses. Some parents pointed out that they would have liked to get even more information about breastfeeding and baby care.
Kokoelmat