Skulle man sitta här ensam, inte skulle maten smaka på samma sätt : En kvalitativ studie i måltidens betydelse för äldres välbefinnande
Sundman, Sofia; Lindgren, Elisabet (2016)
---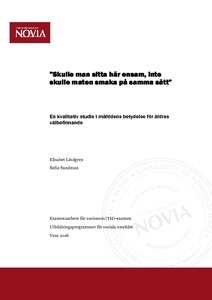 Sundman, Sofia
Lindgren, Elisabet
Yrkeshögskolan Novia
2016
All rights reserved
Julkaisun pysyvä osoite on
http://urn.fi/URN:NBN:fi:amk-201604275192
Tiivistelmä
Abstrakt
Syftet med detta lärdomsprov är att undersöka måltidens betydelse för de äldres välbefinnande. De centrala frågeställningarna i det här arbetet är: Vilken betydelse har måltiden för de äldres välbefinnande? På vilket sätt påverkas välbefinnandet av måltiden? Hur tycker de äldre själva att måltiden kan bli bättre?
I teoridelen tar vi upp olika definitioner på välbefinnande och ifall välbefinnande förändras med stigande ålder. Vi beskriver teorier inom socialgerontologin gällande åldrande och forskning inom området med anknytning till måltiden. Måltidens betydelse har vi reflekterat ur olika synvinklar.
Resultatet av vår kvalitativa undersökning visar på många likheter som kommer fram i teoridelen. Måltidens betydelse för välbefinnandet varierar från person till person. De äldre förknippar välbefinnandet mycket med hälsan. En del av respondenterna försökte med hjälp av maten påverka sitt mående, andra hade inte reflekterat över måltidens betydelse för välbefinnandet. Genomgående präglades de äldres beskrivningar av den sociala samvarons betydelse.
Summary
The purpose of this thesis is to investigate the meaning of mealtime for the well-being of the elderly persons. The thesis key issues include the following: What meaning do the mealtime have for the well-being of the elderly? How do the meals affect elderly well-being? How do elderly persons themselves think that the meals could be better?
In the theoretical part we consider different definitions of well-being and whether the well-being changes with a higher age. We describe theories within social gerontology concerning ageing and research within the subject that investigate the mealtimes. The importance of the meals is reflected out of different viewpoints.
The result of our qualitative study shows many similarities that are revealed in the theory part. The meaning of the meal for the well-being varies from person to person. The elderlies associate well-being with their overall health. Some of the respondents try to affect their feelings of health through their diet, others had not reflected over the meaning of the meals for the well-being. In general, the elderly persons' descriptions emphasized the importance of social togetherness.
Kokoelmat