Brottsprevention : En kvalitativ studie av kriminellas upplevelser av brottsprevention
Dahlbacka, Victoria (2016)
---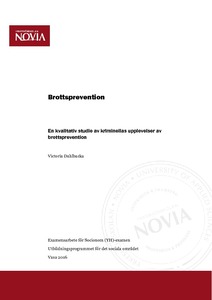 Yrkeshögskolan Novia
2016
All rights reserved
Julkaisun pysyvä osoite on
https://urn.fi/URN:NBN:fi:amk-201604265133
Tiivistelmä
Syftet med detta lärdomsprov är att undersöka fängelsedömdas åsikter om brottspreventiva åtgärder och att ta del av de individuella upplevelserna av dessa samt ta reda på hur avskräckande de olika brottspreventiva åtgärderna upplevts vara av respondenterna. Arbetet behandlar också frågor och teorier rörande utvecklingen av kriminalitet.
I den teoretiska delen presenteras olika individfaktorer som kan bidra till ökad risk för att utveckla brottsligt beteende, olika sociologiska förklaringsmodeller till brott, vad brottsprevention innebär samt vilka brottspreventiva strategier vi i Finland använder oss av.
Den empiriska undersökningen har genomförts som kvalitativa intervjuer med personer med fängelsestraff. Hos de flesta respondenter har de allmänpreventiva och individualpreventiva åtgärderna saknat större avskräckande effekt, det är istället de mellanmänskliga relationerna som värdesätts i större utsträckning då personen väljer att avsluta sin kriminella livsstil.
The purpose of this thesis is to examine the opinions regarding crime preventing strategies among sentenced prisoners and to share their individual experiences as well as ascertaining how deterring they experienced the different crime preventing strategies to be. The work will also touch on theories concerning the development of criminality.
Presented in the theoretical section will be individual factors contributing to increased risk of developing criminal behaviour, several sociological models explaining crime, an introduction to crime prevention and the strategies employed in Finland.
The empirical investigation was accomplished with qualitative surveys with sentenced prisoners. Most of the participants reported that the general and individual preventing strategies lacked any significant deterring effect, rather it was the interpersonal relationships that were considered when choosing to change their criminal lifestyle.
Kokoelmat