Feedstock Additives in Gasification : Effect on Ash Sintering Behaviour in Wheat Straw Gasification
Eskelinen, Patrik (2016)
---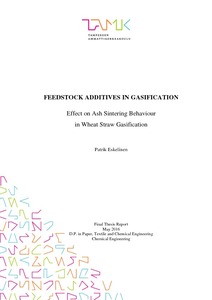 Tampereen ammattikorkeakoulu
2016
Creative Commons Attribution-ShareAlike 1.0 Suomi
Julkaisun pysyvä osoite on
http://urn.fi/URN:NBN:fi:amk-201605046080
Tiivistelmä
In this thesis work the effects of kaolin and magnesium oxide on the ash sintering behaviour of wheat straw in gasification was studied. Small scale gasification of agricultural biomass wastes, or crop residues such as wheat straw, presents a case of clear economic and environmental advantage possibly reducing by over 90 % greenhouse gas emissions if compared with the use of fossil fuels.

This work supported deployment of bench-scale tests for the development of fixed-bed gasification solutions by broadly defining operation extremes. VTT's (Technical Research Centre of Finland Ltd) thermobalance was used for thermogravimetric analysis in order to investigate the reactivity and conversion of the wheat straw with and without additives. Test runs were carried out in steam, CO2 and CO2/Air-atmospheres at 750, 850, 900 and 950 oC.

Residual ash from the thermobalance test runs was analysed by microscopy and the sintering degree was determined for each sample and condition. Scanning electron microscopy (SEM) and energy dispersive X-ray spectroscopy (EDS) were used to inspect the surface morphology and composition of ash.

Results show that using additives in wheat straw decreases sintering significantly regardless of the test conditions. Wheat straw with kaolin shows consistent decrease in reactivity in all test atmospheres. Kaolin forms a soft and brittle layer on residual ash and char inhibiting the reaction. In steam atmosphere test runs use of kaolin reduced reactivity significantly. Magnesium oxide seems to form a layer on residual ash only in steam atmosphere test runs decreasing reactivity slightly.
Kokoelmat