Nyttan med fysisk aktivitet för arbetsgivare och arbetstagare
Björkqvist, Jakob (2016)
---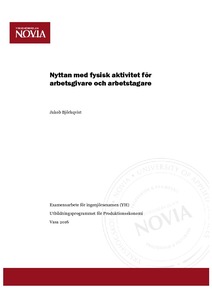 Yrkeshögskolan Novia
2016
All rights reserved
Julkaisun pysyvä osoite on
https://urn.fi/URN:NBN:fi:amk-201605096779
Tiivistelmä
Detta examensarbete handlar om kopplingen mellan ett stillasittande arbete och de hälsorisker
som detta kan innebära. I ett samhälle där arbetstagare utför ett allt mer stillasittande arbete
syns konsekvenserna i de allt fler forskningrapporter som undersöker de hälsorisker som
denna typ av arbete kan leda till.
Syftet med avhandlingen är att väcka uppmärksamhet kring nyttan med fysisk aktivitet och att
ge några konkreta förslag till arbetsgivare på vad som kunde tillämpas för att förebygga en del
av de hälsorisker som kan komma med mycket stillasittande och fysisk inaktivitet.
Detta är en litteraturstudie och som material har jag använt mig av nya undersökningar och
artiklar som finns inom området. Slutsatserna är att stillasittandet hör till de vanligaste
dödsorsakerna idag. Att väcka uppmärksamheten och den inre motivationen för att hålla sig i
fysiskt god hälsa är väldigt viktigt och ligger i både arbetsgivarens och arbetstagarens intresse.
This Bachelor Thesis consists of the connection between sedentary work and the health
hazards that it can bring. According to recent research the consequences of the fact that
workers perform more sedentary work are serious health hazards.
The purpose with this thesis is twofold. Firstly it is to raise the awareness of the benefits from
physical activity. Secondly it is to give some concrete suggestions to employers on measures to
be taken to prevent some of the health hazards that can arise from increased sedentary work
and physical inactivity.
This is a literature study and the material I have used are new research articles and studies
that applies to this field of work. The conclusion is that sedentary work is a leading cause of
death in the western world today. To raise awareness and the inner motivation for keeping
oneself in good physical health is very important and lies within both the employers and
employees interest.
Kokoelmat