"Amningsfred är att få amma på barnets och ens egna villkor" : En undersökning av familjer på sociala medier
Lassus, Frida; Ruokolahti, Camilla; Sundqvist, Nathalie (2016)
---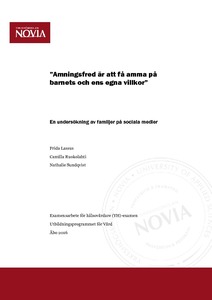 Lassus, Frida
Ruokolahti, Camilla
Sundqvist, Nathalie
Yrkeshögskolan Novia
2016
All rights reserved
Julkaisun pysyvä osoite on
http://urn.fi/URN:NBN:fi:amk-201605239129
Tiivistelmä
Detta examensarbete är en del av Kampanjen Amningsfred-Imetysrauha som ingår i Folkhälsans förbunds och Förbundet för Mödra- och Skyddshems samarbetsprojekt Amning utan stress. Kampanjens övergripande syfte är att öka förståelsen och respekten för olika sätt att se på amning eftersom amning ofta kan skapa stress för familjerna. Syftet med arbetet är att hjälpa Folkhälsan att utveckla sin kampanj. Detta har gjorts genom att en fokusgruppdiskussion hållits i en facebookgrupp med familjer som tidigare deltagit i kampanjen för att ta reda på hur de upplevt kampanjen (n= 5). En blogg startades också dit utomstående mammor, blivande mammor eller pappor/partners fick skicka in berättelser om vad amningsfred innebär för dem (n= 12). Syftet med bloggen vara att hitta en metod för att få familjer att berätta om sin amningsfred samt att utreda vad amningsfred kan betyda för olika personer. Utgående från materialet från fokusgruppdiskussionen och blogginläggen har man genom narrativ analys fått fram ett resultat som kan hjälpa Folkhälsans förbund rf. och Förbundet för Mödra- och Skyddshem att utveckla sin kampanj.
Slutsatserna var att mammor ofta vill berätta om sin amningsfred men inte vill ha råd eller kommentarer om amningen. En annan slutsats var att bloggen är en fungerande metod eftersom man fritt får skriva och formulera sin berättelse. Fokusgruppdiskussion på Facebook kunde vara en bra metod men behöver ännu utvecklas.
This thesis is part of the campaign Amningsfred-Imetysrauha which in turn is a part of the project Amning utan stress ("Breastfeeding without stress" [our translation]) by Folkhälsans förbund and The Federation of Mother and Child Homes and Shelters. The overall purpose of the campaign is to increase the understanding of, and respect for different views on breastfeeding, as breastfeeding is often a cause for stress in families. The aim of this study is to help Folkhälsan and The Federation of Mother and Child Homes and Shelters develop their campaign. The developing was done with former participants of the campaign, using a focus group discussion held in a Facebook group in order to evaluate their opinion on participating in the campaign (n= 5). Simultaneously, a blog was started where mothers, mothers-to-be and fathers/partners who were not tied to the campaign were asked to share their thoughts on what "breastfeeding peace" means to them (n= 12). The aim of the blog was to develop a method to encourage people to talk about breastfeeding peace and explore what the concept means to different people. A narrative analysis was made on the material gathered in the focus group discussion and on the blog, resulting in a strategy which could help Folkhälsans förbund and The Federation of Mother and Child Homes and Shelters in developing their campaign.
The conclusion was that mothers often want to discuss their breastfeeding but advice and comments regarding the subject are unwelcome. Another conclusion was that the blog was a good method because people were allowed to freely express their thoughts and tell their stories. Using Facebook groups as a forum for focus group discussions could be a good method but still needs developing.
__________________________________________________________________________________________________
Kokoelmat