Där nöden är störst : Sammanställning över behov för diakonala insatser i Petrus församling
Esselström, Ella-Mari; Johnson, Mari; Sjöström, Alexandra (2016)
---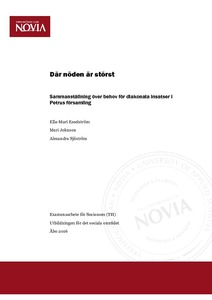 Esselström, Ella-Mari
Johnson, Mari
Sjöström, Alexandra
Yrkeshögskolan Novia
2016
socialt arbete
All rights reserved
Julkaisun pysyvä osoite on
http://urn.fi/URN:NBN:fi:amk-201605239219
Tiivistelmä
Detta examensarbete är ett beställningsarbete av Helsingfors svenska församlingar inom projektet "Där nöden är störst diakoni på svenska".
Arbetet är en sammanställning över behov av diakonala insatser. Syftet med arbetet är att utreda var nöden är störst bland svenskspråkiga inom Helsingfors och Petrus församlings verksamhetsområde. Metoden som används i arbetet är kvantitativ och kvalitativ datainsamling, för att få en så heltäckande bild av situationen som möjligt. Materialet består av statistik, litteratur samt intervjuer med yrkeskunniga inom social- och hälsovårdsområdet.
I Helsingfors konsumeras det årligen mera alkohol än på andra platser i Finland men den upplevda hälsan är bättre. Ensamhet är ett växande problem bland unga och äldre speciellt då det är kopplat till psykisk ohälsa. Detta kan även påverkas av arbetslöshet, boendesituationen och ekonomin. Resultatet visar att den nöd i Helsingfors som är störst är ensamhet och missbruk, speciellt alkoholism. Inom Petrus verksamhetsområde visade det sig att arbetslöshet är den största nöden.
This bachelor's thesis project was commissioned by the Swedish congregations in Helsinki within the project "Där nöden är störst diakoni på svenska". The thesis is a summary of the need for diaconal actions. The purpose of this thesis was to investigate what kind of suffering is the greatest amongst the Swedish speaking population in Helsinki and in Petrus' congregational area. The method used is quantitive and qualitative data collection. This method was used to achieve as comprehensive a picture as possible. The material consisted of statistics, literature as well as interviews with professionals within the field of health and social services.
The annual alcohol consumption in Helsinki is higher than in other places in Finland even though the perception of health is percieved better. Loneliness is a growing issue amongst youths and elderly people, especially when related to mental illnesses. This can also be affected by unemployment, living situation and personal economy. The results show that the distress that was the greatest in Helsinki was loneliness and substance abuse, especially alcohol. However, within Petrus' congregational area the greatest distress was unemployment.
Kokoelmat