Offertberäkningsrutiner
Sundström, Björn (2016)
---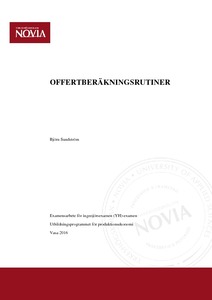 Yrkeshögskolan Novia
2016
All rights reserved
Julkaisun pysyvä osoite on
https://urn.fi/URN:NBN:fi:amk-201605269942
Tiivistelmä
Detta examensarbete är utfört på uppdrag av Sundström Ab, som är ett företag som är
verksamt inom anläggningsbranschen. Företaget är beläget i Pedersöre, Lepplax och till
företagets kärnområden hör jordbyggnad, spårläggning, asfaltering och täckdikning.
Huvudsyftet med examensarbetet är att skapa ordentliga offertberäkningsrutiner som skall
hjälpa företaget att minimera riskerna kring offertgivning samt snabba upp
offertberäkningsprocessen. Delsyftet med studien är att förbättra mängberäkningen genom
ibruktagande och uppbyggande av beräkningsmallar i mängberäkningsprogrammet JCAD.
Metoderna som använts innefattar deltagande i själva offertberäkningsarbetet, diskussioner
med handledare och mängdberäkningstester av olika projekt samt litteraturstudier som bas
för skapandet av offertberäkningsrutinerna.
Resultatet av examensarbetet är en förbättrad offertberäkningsrutin som innehåller
företagets tillvägagångssätt gällande offertberäkning samt för mängdberäkningen uppgjorda
beräkningsmallar i JCAD.
This Thesis is conducted on behalf of Sundström Ab, which is a company that operates in
the Civil Engineering Industry. The company is located in Pedersöre, Lepplax and to the
company's core areas include earthworks, track laying, asphalting and drainage.
The main purpose of this Bachelor's Thesis is to create proper quotation calculation routines
that will help the company minimize risks regarding offering and speed up the quotation
calculation process. The secondary purpose of the Thesis is to improve the amount
calculation through commissioning and building calculation templates in the calculation
program JCAD.
The methods that have been used includes participation in the quotation calculation work,
discussions with supervisors and calculation tests of various projects as well as literature
studies for the creation of improved quotation calculation routines.
The result of the Thesis is a quotation calculation routine which includes the company's
procedures regarding quotation calculation using JCAD as the main tool for future
implementation.
Kokoelmat