Huom! Theseus-tuen yhteydenotto on poissa käytöstä teknisten huoltotöiden takia 11.–15.10.2019. Ongelmatilanteessa ota yhteyttä oman ammattikorkeakoulun kirjastoon. Attention! Theseus Support e-mail is out of use 11.–15.10.2019. In case of problems please contact your own UAS Library. OBS! Theseus Support e-post är ur användning 11.–15.10.2019. Om du har problem, vänligen kontakta ditt eget UAS-bibliotek.
Dubbel ABC-analys av inrednings- och gåvoartiklar för en blombutik
Ruokolainen, Daniela (2016)
---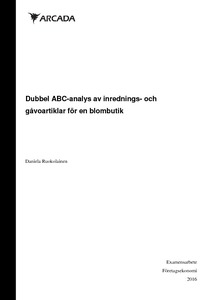 Yrkeshögskolan Arcada
2016
All rights reserved
Julkaisun pysyvä osoite on
http://urn.fi/URN:NBN:fi:amk-201605259831
Tiivistelmä
Kirkkonummen Kukkapiste är en blombutik i Kyrkslätt centrum, som år 2012 utvidgade sitt sortiment av inrednings- och gåvoartiklar. Konkurrensen är hög och en ABC-analys kan hjälpa företagare att identifiera vilka faktorer i ett företag som det lönar sig att lägga tid och resurser på, vilket i sin tur effektiverar verksamheten. Syftet med detta arbete är att med hjälp av en dubbel ABC-analys för Kirkkonummen Kukkapiste ta reda på vilka inrednings- och gåvoartiklar som binder mest kapital och vilka artiklar som är de viktigaste med tanke på vinstgenerering till företaget. Analysen är avgränsad till produkter av Kirkkonummen Kukkapistes fyra största leverantörer för inrednings- och gåvoartiklar. Resultatet av analysen kan användas då olika beslut görs, som till exempel vid val av inköpskvantitet och då man väljer var produkter placeras. De mest lönsamma produkterna lönar sig att placera på de synligaste ställena i butiken. Ett lönsamt företag genererar vinst, vilket är en förutsättning för att företaget skall klara sig på marknaden. ABC-analysen baserar sig på 80/20 regeln, även kallad Paretoprincipen, vilken innebär att ett fåtal (20 %) faktorer står för största delen (80 %) av resultatet. I en ABC-analys delar man in något, vilket i detta fall är produkter, i en A-, B-, och C-grupp. A-produkterna skall man lägga mest tid och resurser på, eftersom dessa påverkar slutresultatet mest. Genom att göra analysen på två olika kriterier får man en dubbel ABC-analys. I detta arbete används insamling av primärdata och kvalitativ forskning som metod, vilket innebär att undersökningen är tolkningsinriktad. Analysen baserar sig på primärdata från inventarier och inköpsfakturor samt prisinformation från olika primärkällor. På basen av vinstgenerering och bundet kapital identifierade analysen 101 produkter, av totalt 351 stycken, som det lönar sig för Kirkkonummen Kukkapiste att lägga mest tid och resurser på.
Kirkkonummen Kukkapiste is a flower store, which in 2012 extended its´ selection of interior and gift products. In this industry, competition is high and an ABC-analysis can help entrepreneurs to find out on what to put time and resources on in order to be more effective. The purpose of this thesis is to, with the help of an ABC-analysis, find out which products in Kirkkonummen Kukkapiste are most profitable and which ones are most expensive to keep in stock. The research is limited to products from the four biggest suppliers of interior and gift products that Kirkkonummen Kukkapiste uses. The results of the analysis can be used when different kinds of decisions are made, for example, when order amounts or product placements are decided. The most profitable products are recommended to be placed at the most visible locations in the store. A company needs to be profitable in order to survive on the market. An ABC-analysis is based on the 80/20 rule, also called the Pareto rule, which states that a small amount of factors (20%) stands for the major (80%) outcome. In an ABC-analysis the factors, which in this case are products, are divided in to A-, B-, and C-, groups. A-products are those products that time and resources should be allocated to because these products have a major effect on the outcome. When the analysis is based on two criteria, it is called a double ABC-analysis. In this thesis collection of primary data and qualitative research are used as methods, which means that the research is interpretation oriented. The analysis is based on primary data from inventories, purchase invoices and different sources for selling prices. Based on profitability and working capital the analysis identified 101 products of the total amount of 351 products, which are recommended to allocate time and resources to.
Kokoelmat