EXPLORING NOSQL DATABASES : Comparison of Databases
Zemzans, Otto (2016)
---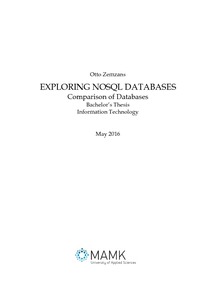 Mikkelin ammattikorkeakoulu
2016
Creative Commons Attribution 1.0 Finland
Julkaisun pysyvä osoite on
http://urn.fi/URN:NBN:fi:amk-2016053010850
Tiivistelmä
SQL databases have been the mainstream choice for almost any project. They store data in a normalized, tabular structure and do many fancy things for you, such as providing very strong consistency across different database instances. This kind of feature is very useful, but sometimes developers want more freedom, even at the cost of consistency, for example. NoSQL databases can offer more flexibility and extra special features, which wouldn't work very well in SQL ideology.
The IT industry has been showing lots of interest in NoSQL solutions. The amount of data and special requirements have lead many companies to try and find something that SQL cannot solve. NoSQL can sometimes offer more flexible and convenient solutions The purpose of this study was to investigate the world of NoSQL and see how NoSQL databases can be compared between each other and SQL.
Three very different databases were chosen and installed in the practical part. Their basic usage was introduced and very representative example use cases were demonstrated to understand what kind of NoSQL solutions are available. General properties of the databases were researched to understand how one should objectively choose a database to work with.
As a result, a table depicting a way to compare the three NoSQL databases: Redis, Mongo DB and Neo4j. They have different features and distinct data paradigms. Redis is a key-value store. Mongo DB is a document store. Neo4j represents the data as a directed graph.
It was concluded that SQL is not going anywhere, but NoSQL enrich the possibilities of solving problems that SQL cannot handle at all or cannot handle in an elegant or optimal way.
Kokoelmat