"Det enda varaktiga är förändring" : En kvalitativ studie om medarbetare och ledares åsikter om förändring
Frostdahl-Blomqvist, Siw (2016)
---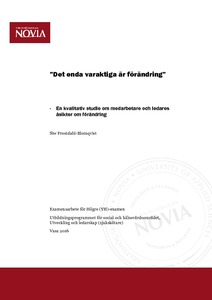 Yrkeshögskolan Novia
2016
All rights reserved
Julkaisun pysyvä osoite on
http://urn.fi/URN:NBN:fi:amk-201605249393
Tiivistelmä
Syftet med studien var att undersöka hur medarbetarna kan engageras i utvecklings- och förändringsarbetet. Studien gjordes för att ge kunskap åt ledare hur de kan göra för att engagera medarbetarna och öka delaktigheten i förändrings- och förbättringsarbetet som ständigt pågår inom vården.
I studiens bakgrund presenteras teori om förändring, förändringsprocessen, förändringsledarskap, ledarens roll i förändring, medarbetarens roll, engagemang för förändring samt motstånd till förändring. Studien har genom fokusgruppintervju med medarbetare och genom kvalitativ forskningsintervju med ledare tagit reda på åsikter om förändring och hur förändringar upplevts och upplevs. Genom innehållsanalys har intervjuerna analyserats.
Studiens resultat påvisar att både ledarna och medarbetarna anser att en tydlig motivering till varför en förändring görs har en mycket betydande roll för att få engagemang och delaktighet. Ledarnas roll i förändringsprocessen (såväl nära ledaren som ledningen) innefattar en stödjande roll där medarbetarna får tydlig information och ges möjlighet till diskussion och dialog. Ledarna behöver ha en bra relation till medarbetarna som ger påverkningsmöjlighet och delaktighet. Belöning för arbete och möjlighet att ta ansvar i förändringsarbetet skapar engagemang och minimerar motstånd för förändringen. Förändringar behöver ha en tydlig vision och målsättning, för att ge möjlighet till utvärdering, när de små stegen i förändringsprocessen tas, detta skapar engagemang och delaktighet.
The aim of the study was to investigate how employees can be involved in the development and change. The study was to provide knowledge to the leaders what they can do to involve employees and increase participation in change and improvement work that is ongoing in health care.
In the study, presented the background theory of change, change processes, change leadership, the leader's role in change, the employee's role, commitment to change and resistance to change. The study by focus group interviews with employees and through qualitative research interviews with leaders found out opinions about the change and how changes experienced and perceived. Through content analysis, the interviews were analyzed.
The study's results demonstrate that both managers and employees believe that a clear justification for why a change is made has a very significant role in getting involvement and participation. Leaders' role in the change (both close to the leader as the lead) comprises a supporting role where employees are clearly informed and given the opportunity for discussion and dialogue. Leaders need to have a good relationship with the employees that provide possibility to affect and participation. Reward for work and to take responsibility in the change process creates engagement and minimize resistance to change. Changes need to have a clear vision and goal, to provide the opportunity for evaluation, when the small steps of change are taken, this creates involvement and participation.
Kokoelmat