The Role of Brand Personality in Franchise Business : A Comparative Study of Starbucks & Robert's Coffee
Robinson, Kaelan (2016)
---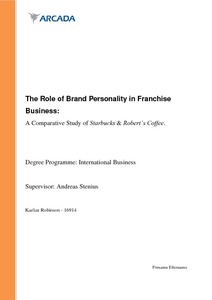 Yrkeshögskolan Arcada
2016
All rights reserved
Julkaisun pysyvä osoite on
http://urn.fi/URN:NBN:fi:amk-2016052710467
Tiivistelmä
This study was conducted and aimed towards analyzing the role and importance of brand personality within franchise businesses from a consumer perspective. The study was formulated to assess and compare a large, global multinational franchise brand, Starbucks and a smaller, local-scale franchise within the same market of franchise business, Robert's Coffee that operates primarily in Finland through a comparative case study.
Through the distribution of a questionnaire to 105 respondents, this research aimed to answer three research questions. This study was designed to assess if there is a definitive link between brand personality in franchises and their performance, how aware consumers are of the brand personality franchises aim to project and whether or not consumers actively seek franchise brands with strong brand personality traits and characteristics. This study introduces the concept of branding and brand personality to the reader within the context of a franchise business model with support from previous works such those by David and Jennifer Aaker and Philip Kotler amongst others.
Results of the research were discussed in two subsections. The first part focused on the quantitative findings and their implications, the second consisted of a comparison be- tween advertising materials used by Robert's Coffee & Starbucks with open-ended responses from the study participants.
Respondents indicated that a strong brand personality does correlate with better franchise performance from a consumer perspective and consumers do seek out strong personality attributes in franchises. Franchises often only partially deliver with brand personality leaving many consumers with a limited understanding of what the personality actually is.
Studien genomfördes och inriktade att analysera roll och betydelse av värumärksespersonlighet inom franchise-företag ur ett konsumentperspektiv. Studien formulerades att bedöma och jämföra en stor, global multinationella franchise varumärke, Starbucks och en mindre, lokal skala franchise inom samma marknad av franchise-företag, Roberts Coffee som arbetar primärt i Finland genom en jämförande fallstudie.
Genom distribution av ett frågeformulär till 105 respondenter, forskningen syftade till att svara 3 forskningsfrågor. Denna studie var utformad för att bedöma huruvida det finns en definitiv länk mellan varumärkespersonlighet i franchising och deras prestanda, hur medvetna konsumenterna är av märkespersonligheter franchise företag syftar till att projicera och huruvida konsumenterna aktivt söka franchise-varumärken med starka varumärkes personlighetsdrag och egenskaper. Denna studie infördes begreppet branding och varumärkespersonlighet för läsaren inom ramen för en franchise affärsmodell med stöd från tidigare verk som David och Jennifer Aaker, Philip Kotler bland andra.
Resultaten av forskningen diskuterades i två avsnitt. Den första delen fokuserade på de kvantitativa resultaten och deras implikationer och den andra delen utgjordes av ett jämförelse mellan reklammaterial som används av Roberts Coffee & Starbucks med öppna svar från studiedeltagarna.
Tillfrågade uppgav också att ett starkt varumärke personlighet korrelerar med bättre franchise-prestanda ur ett konsumentperspektiv och konsumenterna inte söka stark personlighet attribut i franchising. Franchise-företag ofta bara delvis leverera i fråga om sin varumärkespersonlighet lämnar många konsumenter med en begränsad förståelse för vad personligheten faktiskt är.
Kokoelmat