Alkoholistens lidande och mötet med den lidande : För bättre bemötande av alkoholister prehospitalt
Slangar, Belinda (2016)
---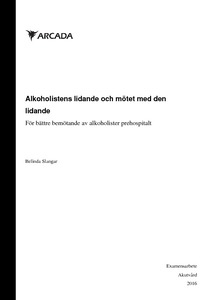 Yrkeshögskolan Arcada
2016
All rights reserved
Julkaisun pysyvä osoite on
http://urn.fi/URN:NBN:fi:amk-2016060211682
Tiivistelmä
Sammandrag:
Avsikten med studien är att beskriva alkoholistens lidande, beskriva hur alkoholistens lidande tar sig uttryck i det prehospitala mötet och hur man i den prehospitala vården kan lindra alkoholistens lidande. Beskrivningen av fenomenen sker ur akutvårdsstuderandes syn och upplevelser. Resultatet önskas kunna ge en större förståelse för alkoholistens lidande och genom en ökad förståelse kunna bidra till att vårdare bemöter patienter med alkoholism bättre inom akutvården. Examensarbetets frågeställningar lyder:
1. Hur förklaras alkoholistens lidande av akutvårdsstuderanden?
2. Hur tar alkoholistens lidande sig uttryck under akutvårdsuppdrag?
3. Hur kan alkoholistens lidande lindras prehospitalt?
Som teoretisk referensram användes Erikssons teori om lidande (Eriksson, 1994). Undersökningens datainsamling genomfördes som 5 enskilda intervjuer med kvalitativ ansats. Informanterna för undersökningen var akutvårdsstuderanden från Yrkeshögskolan Arcada som studerade sitt fjärde år på utbildningen vid tidpunkten för intervjun. Intervjuerna bandades in och transkriberades ordagrant. De transkriberade intervjuerna analyserades med metoden innehållsanalys.
Resultatet från studien visar att alkoholistens lidande är lidande på fysiskt, psykiskt och socialt plan och lidanden som alkoholisten bär ger alkoholisten ett liv fyllt av skuld och skam. Alkoholistens lidande tar sig uttryck i omvärlden och i patientens beteende. Omvärlden innebär vårdarens eget vetande och det sedda från personens situation. Lidandet uttryckt i patientens beteende innebär att patienten genom att vara passiv, aktiv eller aggressiv kan uttrycka sitt lidande. Vårdaren kan genom bemötande och handlingar vårda ur att bry sig om patienten. Att vårda ur att bry sig om innebär att det centrala i vården är vårdarens omtanke för patienten. Vårdande ur att bry sig om kan lindra alkoholistens lidande prehospitalt.
Abstract:
The aim of the study is to describe the suffering of alcoholics, describe how the suffering of the alcoholics is expressed during an interaction in prehospital care and how the suffering of the alcoholic can be alleviated in prehospital care. The phenomenon are described from paramedic students' experiences and point of view. The aim is that the results from the study will increase the understanding of the suffering of alcoholics and there by contribute to better care encounters with patients who suffers from alcoholism. The questions of the study are:
1. How do paramedic students explain the suffering of an alcoholic?
2. How is the suffering of the alcoholic expressed during prehospital care?
3. How can the suffering of an alcoholic be alleviated in prehospital care?
Eriksson´s (1994) theory of suffering was used as theoretical framework for this study. The study was done through 5 individual interviews with a qualitative approach. The informants were paramedic students from Arcada who were in their fourth year of their emergency care studies at the time of the interview. The interviews were recorded and transcribed verbatim and then analyzed using content analysis.
The results show that the suffering of the alcoholic is suffering on a physical, psychological and social level. The suffering that the alcoholic is carrying gives him/her a life full of guilt and shame. The suffering of the alcoholic is expressed in the surrounding world and in the behavior of the patient. The surrounding world is divided into the caregivers personal knowing and into what can be seen from the persons situation. Suffering expressed in the patient's behavior means that by being passive, active or aggressive the patient can express that he/she is suffering. To alleviate the suffering of an alcoholic in prehospital care the caregiver must care for the patient from a state of truly caring about the other person. The alcoholic can feel a relive in his/her suffering when the caregiver with her/his encounter and acts shows that she/he truly cares.
Kokoelmat