REFURBISHING ELDERLY CARE : The New Streams and Organisational Transformation in Finland and Japan
---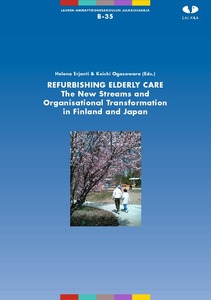 Editoija
Erjanti, Helena
Ogasawara, Koichi
Laurea-ammattikorkeakoulu
2009
Julkaisun pysyvä osoite on
http://urn.fi/URN:NBN:fi:amk-2016070413509
Lähdeviite:
Erjanti H., Ogasawara K. (Eds.)., (2009). REFURBISHING ELDERLY CARE : The New Streams and Organisational Transformation in Finland and Japan. ,
Laurea Julkaisut B35
., Laurea-ammattikorkeakoulu.
URN:NBN:fi:amk-2016070413509
Tiivistelmä
The need to develop operations models in order to maintain health and prevent health problems in the elderly can be considered to be equal and parallel in Finland and Japan. Most of the services for the elderly in Finland are produced as service production by the public sector. The purchasing of care, nursing, rehabilitation, and corresponding services from outside the public sector is currently significant in Finland, and it will most likely continue to increase in the future.

On the other hand, the Japanese long-term care system is now just in the middle of a period of self adjustment to a more community comprehensive care system rather than the quasi-market model it used to be. Comparative knowledge has contributed to the development of services in both countries and to guaranteeing a good quality of life for the elderly.

This publication consists of presentations that explain the service structure for the elderly, the improvement of quality in the lives of the elderly, redefining the concepts of elderly care, innovations in service and organisation, and their analysis and research.

The articles for this book are based on papers presented at the third Sendai- Finland Seminar and the fourth Finland-Sendai Seminar. The seminars are the annual events for the Active Project entitled "Refurbishing Elderly Care", which is the joint R&D project agreed by Laurea University of Applied Sciences, Helsinki School of Economics, the City of Vantaa and the City of Espoo in Finland and Tohoku Fukushi University and Tohoku Fukushi Corperation from Sendai, Japan.
Kokoelmat