INTEGRATIVE STUDENT-CENTERED RESEARCH AND DEVELOPMENT WORK : Sample of Evidence Series: Volume (1)
---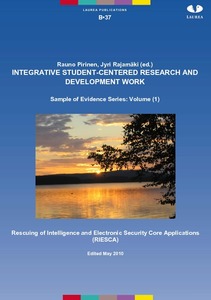 Editoija
Pirinen, Rauno
Rajamäki, Jyri
Laurea-ammattikorkeakoulu
2010
Julkaisun pysyvä osoite on
http://urn.fi/URN:NBN:fi:amk-2016070413517
Lähdeviite:
Pirinen R., Rajamäki J. (Eds.)., (2010). INTEGRATIVE STUDENT-CENTERED RESEARCH AND DEVELOPMENT WORK : Sample of Evidence Series: Volume (1). ,
Laurea Julkaisut B37
., Laurea-ammattikorkeakoulu.
URN:NBN:fi:amk-2016070413517
Tiivistelmä
RIESCA
In the RIESCA project (The Rescuing of Intelligence and Electronic Security Core Applications) Laurea aimed at developing further evaluation methods for systems that are critical to the functioning of the society. The aim of the RIESCA project is addressed to analyse of methods, which could contribute processes of evaluation and the continuous system's development. Special attention was given to the analysis of moving from situations of normal activity to critical situations, and studying how such systems could be recovered from their crisis state and returned to their normal state. A further aim was to develop different scenarios related to critical events (mass events, high level political meetings, crisis situations), security management and communication systems and assesses various methods for evaluating their functionality.

During the project Laurea's researchers and students, as research colleagues in co-operation with other RIESCA project researchers, analysed existing standards and methods, and evaluated their applicability for the evaluation and development of critical systems and event security management.
The target of the project was to create a process that could evaluate and develop security management for critical systems and events. This was done by making as much use of existing methods and standards as possible. The pilot projects concerning these methods were mostly carried out with organisations that took part in the project. The whole process (operations model) was supplemented by solutions that were developed during the project.

This report is a record of the output of the RIESCA project and serves as a 'toolbox'; a series of procedures for the evaluation and development of critical systems and event security management.
Kokoelmat