User-driven Approach to Promote the Use of Health and Wellbeing Technology Among Elderly People
Lehto, Paula (2016)
---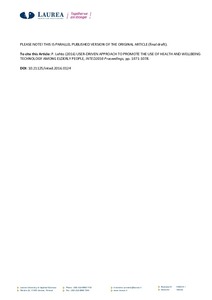 IATED Academy
2016
Julkaisun pysyvä osoite on
http://urn.fi/URN:ISBN: 978-84-608-5617-7
Lähdeviite:
Lehto P., (2016). User-driven Approach to Promote the Use of Health and Wellbeing Technology Among Elderly People. , IATED Academy.
doi:10.21125/inted.2016.0124
Tiivistelmä
Almost every country in Europe is tackling today with the huge challenges of ageing society and ageing population. Year 2012 European union was launched the theme active ageing and the Program for Active and Healthy Ageing was published as "The European Year for Active Ageing and Solidarity between Generations 2012" [1]. From the point of view elderly people as senior citizens there is still a need for supporting elderly people´s health and wellbeing through the development of the new health and wellbeing technology, eHealth and especially through new digital services [2. The digitalization is spreading rapidly reflecting on all levels of the society and especially people´s everyday life. The elderly people as users, clients or patients in the field of health care and social welfare should be taken actively along when technological products and new digital services are developed. There is a challenge to develop technology and digital services that enhance and make possible to be generated a new ecosystem in health care and social welfare context to respond the needs and expectations of the elderly people living independently at their own homes. Cities or municipalities, companies, academic institutions, and professionals from public and private healthcare and social welfare field and e.g. elderly people as endusers should cooperate for co creating better user-driven and age friendly technology and services.

The purpose of the article is to describe how elderly people can be involved as active participants when new health and wellbeing technology are taken in use in health care and social welfare field. The research focus is on action research (AR) as the methodological background. Through the user-driven methods during the cocreation process the elderly people are committed in developing and using the technology, technological products and digital services. The article is based on a case study called the mHealth Booster research, development and innovation (RDI) project as the example. The aim of the mHealth Booster project was to design and produce new development environments as interactive and participative test and demonstration environments for and with the elderly people and professionals from the cities of Espoo and Vantaa in Finland. The development environments are physical spaces where different health and wellbeing technology, products and services were tested and developed together with the elderly people, the professionals, and the companies. In the mHealth booster project elderly people and professionals were in an active role in the cocreation and development process. The voice of the participants is crucial in empowering the eldelry people in their own life and in empowering professionals in developeing their own work. In the presentation the findings of the mHealth Booster project will be described based on the phases of the action research and the role and engagement of the elderly people will be shown thorugh the case study.
Kokoelmat