Familjens situation när ett barn blir allvarligt sjukt : En kvalitativ studie om föräldrar som bloggar om upplevelser av att ha ett cancersjukt barn
Åström, Mia-Lina (2016)
---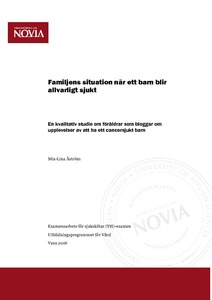 Yrkeshögskolan Novia
2016
All rights reserved
Julkaisun pysyvä osoite on
http://urn.fi/URN:NBN:fi:amk-2016090514036
Tiivistelmä
Syftet med denna studie är att få ökad förståelse för hur familjen påverkas när ett barn blir allvarligt sjukt. Frågeställningen som ställs är: Hur påverkas familjen när ett barn blir allvarligt sjukt?
Denna studie är en kvalitativ dokumentstudie, där jag har analyserat tre bloggar skrivna av mammor till cancersjuka barn som skriver om deras livssituation. Genom kvalitativ innehållsanalys erhölls resultatet som sedan speglades mot de teoretiska utgångspunkter som jag valt, dessa var Katie Erikssons (1994) teori om lidande samt Aaron Antonovskys (2012) salutogena teori. Resultatet reflekterades också mot tidigare forskning inom ämnet i form av fem vetenskapliga artiklar som samt den teoretiska bakgrunden som innehöll kristeorin skriven av Johan Kullberg (2007).
I resultatet framkom det två teman: Psykisk och fysisk påverkan och familjesituationen, av dem skapades kategorier och underkategorier. Resultatet lyfter fram hur familjen påverkas som helhet men även den enskilde familjemedlemmen och relationen dem emellan. Syskonen påverkas på så vis att de kommer lite i skym undan av det andra barnets cancersjukdom och allt vad den medför. Men även syskonen är en viktig del för det sjuka barnet och föräldrarna eftersom de hjälper familjen att orka genom det svåra. Det är mycket känslor som påverkar hela familjen och känslorna går upp och ner under sjukdomens gång.
The aim of this study is to describe how the family is affected, when a child suffers from a serious disease. The research question used for the study is: How does the child's serious disease affect the whole family?
This thesis is a qualitative document study, in which three blogs written by mothers of children with cancer were analyzed. The blogs are written about their life situation. Using content analysis, the result was obtained, which later on was reflected against the theoretical framework that was chosen. These were Katie Eriksson's (1994) concepts about suffering and Aaron Antonovsky's (2012) salutogenes theory. The result was also reflected towards earlier research within the topic in the form of five scientific articles and the theoretical background containing the traumatic crisis written by Johan Kullberg (2007).
Two themes emerged in the result: psychological and physical impact and the family situation and through these categories and subcategories were created. The result highlights in which way the family is affected by the child's cancer disease, but also how individual parts of the family and how relationships between family members are affected. The siblings usually end up in the shadow of the other child's cancer disease and all in between. But the siblings are also very important for the sick child and the family since they help the family get through the tough situation. There are plenty of feelings that affect the whole family and these feeling go up and down during the cancer disease.
Kokoelmat