Students as customers : Service process development for improved student's customer experience at BusinessLab of Laurea University of Applied Sciences, Finland
Mononen, Asko; Kortelainen, Mika; Hellgrén, Anni (2016)
---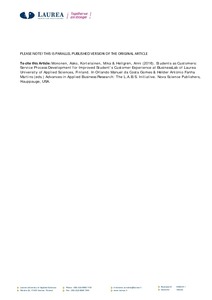 Mononen, Asko
Kortelainen, Mika
Hellgrén, Anni
Nova Science Publishers
2016
Julkaisun pysyvä osoite on
https://urn.fi/URN:NBN:fi:amk-2016091214176
Tiivistelmä
The purpose of this chapter is to describe a student-driven way of working at the learning environment of University of Applied Sciences (UAS) and its Bachelor of Business Administration education. The chapter describes the service process and BusinessLab environment as drivers of students' customer experiences. The originality and value of this chapter comes from an approach of combining theoretical frameworks of customer experience and service process into UAS BusinessLab and its project based learning environment, where students are treated and viewed as customers.

Our case study is the initial attempt to encourage discussion on viewing Students as Customers in the higher education. This case study has been conducted at Startup BusinessLab (project based learning environment) of Lohja Campus at Laurea University of Applied Sciences in Finland. In the BusinessLab the students accomplish most of their studies in real-life business projects provided by external, mostly regional companies. The students' theory assignments are driven by their own interests within the curriculum. The BusinessLab practices are assessed as a service process on which the students are viewed as customers whose experience is crucial in developing their competences to match the requirements of their future employees. The results are based on four separate group interviews (N=21) which were conducted for BusinessLab students during the spring 2015. Also the BusinessLab students' self-reflection reports (2014-2015) were analyzed to understand students' experiences (N=44).

The findings of this case study emphasize the students' ability to select their way of studying and their personal responsibility of their own studies, as well as informality, and real-life cases. Also, there seems to be a pattern of students' experiencing their personal growth path from confusion to sense of control. Based on the students' customer experience, it can be said that BusinessLab way of working is creating perceived value for students. In order to apply the model for different students' learning needs, the situational flexibility, personal support and coaching is needed with the help of several other subject matter experts.
Kokoelmat