Cross-Cultural Implications In A Project-Based Learning Environment (PBL)
Santonen, Teemu; Gaisch, Martina; Camara, Antonius (2012)
---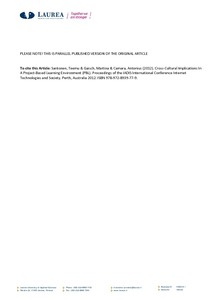 Santonen, Teemu
Gaisch, Martina
Camara, Antonius
International association for development of the information society
2012
Julkaisun pysyvä osoite on
http://urn.fi/URN:NBN:fi:amk-2016101915268
Lähdeviite:
Santonen T., Gaisch M., Camara A., (2012). Cross-Cultural Implications In A Project-Based Learning Environment (PBL). , International association for development of the information society.
URN:NBN:fi:amk-2016101915268
Tiivistelmä
Effective functioning of geographically dispersed, culturally mixed work team is essential for global business success in the era of ICT-outsourcing and -offshoring. It is vital to understand and learn how to do software development in virtually supported intercultural collaboration environments. Therefore, this case study is evaluating cultural differences between Austria and Finland in a context of higher education project-based learning (PBL) environment. Methodologically, our single case study combines a constructive action research paradigm and focused semi-structured student interviews. Our findings regarding English as Lingua Franca (ELF) show that despite this neutral and culture-free approach of intercultural communication, there were still a number of obstacles to overcome due to differences in proficiency,
receptiveness and personality structure of the people involved. The findings about Uncertainty Avoidance (UAI), Powerdistance(PD), Individualism (IDV) and Masculinity Index (MAS) are all in line with the previous suggestions in literature where Finns are regarded to score lower in both UAI and PD compared to their Austrian counterparts. Moreover, the results reflect Austria`s high rank in the MAS index with students being both demanding and assertive during the team-building process but also throughout the project.
Kokoelmat