Starta eget företag : En kvalitativ forskning om hur företag skapas ur ett teoretiskt perspektiv i samband med Voga Styling
Lithén, Heidi (2016)
---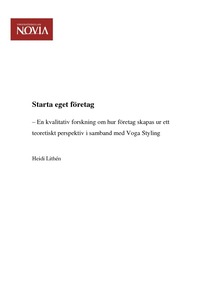 Yrkeshögskolan Novia
2016
All rights reserved
Julkaisun pysyvä osoite on
http://urn.fi/URN:NBN:fi:amk-2016112316888
Tiivistelmä
Syfte med detta examensarbete är att med stöd av vetenskapliga teorier redogöra huruvida startande av företag går till. Respondenten vill med detta arbete förstå vad som krävs för att starta eget företag, och vad det finns för risker i samband med startandeprocessen. Respondenten har valt att utföra detta arbete eftersom intresse för entreprenörskap växer sig allt större inom skönhetsbranschen. Studien lämpar sig för olika branschindivider som strävar till att starta eget företag. För att utföra denna kvalitativa studie, använder respondenten sig av dokumentstudier som datainsamlingsmetod, och därefter en innehållsanalys som dataanalysmetod. Resultatet visar att utifrån en koncist och praktisk affärsidé kan ett företag skapas. I samband med affärsidén skapas en noggrann affärsplan som bygger upp en systematisk funktion i företaget. Störst fokus läggs på själva affärsidén i kombination med marknadsplan, samt planering av ledningsgrupp, som utgör de grundläggande element för startande av företag. En affärsidé ska vara rationell, men ändå logiskt uppbyggd till den nivån att den fungerar oproblematiskt på marknaden. En ekonomisk översikt bör kartläggas för att få reda på vilka medel som bör tillförskaffas, samt vilken mängd investering som är aktuell inom ett visst bolag. En effektiv ledningsgrupp bör tillämpas i ämnet där alla är överens om en gemensam målriktning, som ständigt innehar drivkraft av kreativitet och passion.
The purpose of this study is to examine the process of starting a company, with the support of scientific theories. With this study, the respondent pursues a deeper understanding in what implies, in order to start up a company, and defines potential risks within the starting process. The respondent has chosen to precede this work, since the trend of becoming an entrepreneur and starting a business is increasing among the beauty industry. The study also serves different individuals within any industry, who are thrived to start their own business. In order to perform this qualitative study, the respondent is using document studies as data analysis. After studying the collected data, the respondent will continue the research by using content analysis in order to perform a result.
The result shows that with a functional business idea, the planning of a company may take place. Combined with a clarified business idea, the business plan-process can begin, which is building up functional performance system for the company. The business idea itself, combined with a fine executed marketing plan, and planning of the teambuilding are most important subjects. Entrepreneurs are using these fundamental elements while starting up a new company. A business plan needs to be rational, but still contain a logical structure, which creates functional strategies on the market. An economical survey clarifies possible investments, which are relevant for a certain companies. It will also identify possible obtainable needs, which will improve the economic situation. The result indicates the importance of an effective team behind the company, with specific creative and passionate mind-settings.
Kokoelmat