Service design with communities in Africa : the case of UFISA
Miettinen, Satu; du Preez, Vikki; van Dugteren, Jill; Moalosi, Richie; Molokwane, Shorn; Luojus, Satu (2016)
---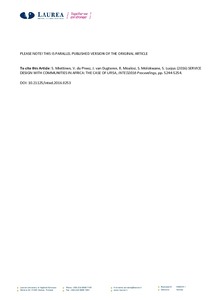 Miettinen, Satu
du Preez, Vikki
van Dugteren, Jill
Moalosi, Richie
Molokwane, Shorn
Luojus, Satu
International Academy of Technology, Education and Development
2016
Julkaisun pysyvä osoite on
http://urn.fi/URN:ISBN:978-84-608-5617-7
Lähdeviite:
Miettinen S., du Preez V., van Dugteren J., Moalosi R., Molokwane S., Luojus S., (2016). Service design with communities in Africa : the case of UFISA. , International Academy of Technology, Education and Development.
doi:10.21125/inted.2016.0531
Tiivistelmä
The goal of this study was to investigate how service design can be utilised in the community centred design in Africa and what type of service design processes could benefit local communities when developing innovative services and applications? The paper argues that service design and community centred design have a similar ethos. Service design can be utilised to include community members and stakeholders in the community centred development process. This makes service design a practical and participatory development tool in the African context. The study was focused on the case studies of the User-centred design for Innovative Services and Applications (UFISA) project that was developed around an important multi-disciplinary area of education, technical and societal development and user-centred design of information and communication services for the communities in Africa. The research data was collected during two UFISA intensive courses where service design methods were implemented. The two community development cases were in South Africa (2013) and Botswana (2014). The findings show that community centered design and service design can contribute to the empowerment and sustainable development of the local communities.
Kokoelmat