Vaccination som förebyggande åtgärd ur en vårdares perspektiv : en litteraturstudie om hur vårdaren kan förebygga mässlingens återkomst i vården och det moderna samhället
Österberg, Camilla; svarvar, staffan (2016)
---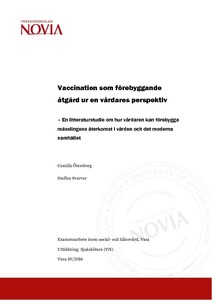 Österberg, Camilla
svarvar, staffan
Yrkeshögskolan Novia
2016
All rights reserved
Julkaisun pysyvä osoite on
http://urn.fi/URN:NBN:fi:amk-2016112717740
Tiivistelmä
Vaccination har under den senaste tiden varit ett aktivt debatterat ämne samtidigt som sjukdomar som ansetts så gott som utrotade åter börjat få fäste i samhället. Även den stadigvarande vaccinationstäckningen har långsamt börjat dala.
Detta arbete behandlar MPR (morbilli-polio-rubella) vaccinet med fokus på mässlingen (morbilli) och syftet med arbetet är att få mera kunskap och ny förståelse för mässlingens återkomst i samhället. Genom att genomföra en systematisk litteraturstudie och granska vetenskapliga artiklar har skribenterna genom en innehållsanalys sökt svar till frågeställningarna vad vårdaren kan göra för att påverka och förebygga uppkomsten av mässling och vad vårdarens roll är i vaccinationsfrågan.
Materialet har i första hand sorterats fram via databasen CINAHL där kombinationer av sökorden vaccination, MMR, non-vaccination, public health, no to vaccination, responsibility och measels har kombinerats. Även sökorden self-care, patient education och vaccination har kombinerats med tanke på teoretiker Dorothea E. Orems teori om egenvård som är den grundläggande teoretiska referensramen till arbetet.
Sex artiklar valdes enligt påförhand givna kriterier ut till arbetet och genom att göra en innehållsanalys av dessa kunde fem gemensamma kategorier hittas som svarar på arbetets frågeställningar. Kategorierna blev utbilda och erhålla kunskap, tydlig information och saklig kommunikation, inge förtroende och skapa en ömsesidig respekt, motivera samt det sociala ansvaret. Genom en balansgång mellan samtliga kategorier kan vårdaren både påverka och förebygga uppkomsten av mässlingen. Kategorierna innefattar även vårdarens roll i vaccinationsfrågan och detta presenteras i resultatet.
Vårdkontakt är den viktigaste informationskällan vid vaccinationsfrågor även om en förälder redan innan tagit ett beslut. Vårdaren kan således påverka vaccination-stäckningen men det innebär en stor utmaning och sätter ett stort ansvar på vårdaren.
Vaccination has recently been an actively debated topic while diseases that were considered nearly extinct started again to take hold in society. Moreover, the ability of vaccination coverage slowly begun to decline.
This work deals with the MMR (Morbilli-polio-rubella) vaccine focusing on Measles, the purpose of this work is to gain more knowledge and new understanding of measles return into the society. By implementing a systematic literature study and review of scientific articles through a content analysis the respondents sough answers to questions about what the caregiver can do to influence and prevent the rise of measles and what is the nurse role in the vaccination issue.
The material has primarily been sorted out through the CINAHL database in which combinations of keywords vaccination, MMR, non-vaccination, public health, no to vaccination, responsibility and measels have been combined. Also the keywords self-care, patient education and vaccination has been combined considering the theorists Dorothea E. Orem's, the theory of self-care which is the significant theoretical framework to this study.
Six articles were selected to the conduction of content analysis, from these articles five common themes have been be found. The themes are also including the care giver role in the vaccination issue, and this is presented in the results. Hence, care contact is the main source of information even if a parent already has made a decision in the vaccination issue. This puts a great responsibility on the nurse.
Kokoelmat