Producing an Assistant Guide for Haaga-Helia StartUp School
Averina, Maria (2016)
---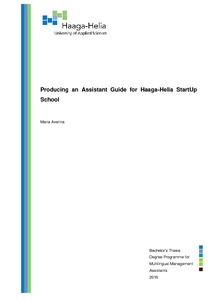 Haaga-Helia ammattikorkeakoulu
2016
All rights reserved
Julkaisun pysyvä osoite on
https://urn.fi/URN:NBN:fi:amk-2016112817998
Tiivistelmä
This product-oriented thesis was commissioned by the StartUp School (SUS), a program of Haaga-Helia University of Applied Sciences that supports Haaga-Helia students to become entrepreneurs. The StartUp School offers Haaga-Helia students a six-month assistant trainee position. Consequently, every half a year there is a new assistant at the StartUp School. The commissioning party was lacking an essential tool to introduce work tasks to new assistant interns.

The objective of the thesis was to create a comprehensive manual (Assistant Guide) particularly for the StartUp School. The Guide should not only introduce work-related issues to a new assistant, but most importantly list all work responsibilities and tasks and explain them in great detail. The Guide is to be used as a supporting tool during assistant trainee induction as well as during the period of internship, as an assistant should refer to the Guide when needed and update it in accordance with changes in practices of the StartUp School.

As being a product-based thesis, it contains two main components. First one is the report which presents the background of the project, theoretical part, implementation of the product and discusses the thesis results. Second one is the final product - Assistant Guide for Haaga-Helia StartUp School.

Theoretical part of the report discusses how the product will support marketing in the StartUp School, as one of the main tasks of a StartUp School assistant is to promote StartUp School services on digital channels. Literature related to management assistants' work was reviewed for better understanding of main characteristics and a role of a management assistant in an organization. Studied sources related to digital marketing, particularly on social media, supported theoretical knowledge, which along with the author's previous experience were used to build the product.

The work on this thesis began in January 2016 with acquisition of the data for the Assistant Guide, which continued until the end of June 2016. Information was collected during six month when the author of this thesis was doing her internship as an assistant at StartUp School. The Guide was being written in between July and October 2016 and the report was finalized in November 2016.

Generally positive feedback from the commissioning party and a user – a current StartUp School assistant, was received on the product. The feedback, suggestions for future development of the product and personal assessment are discussed at the end of the report.

The commissioning party prohibited the Guide to be published in Theseus online library due to sensitive information the Guide consists. Therefore, only the Guide's table of contents is included in the appendix.
Kokoelmat