The impact of full-time employment on Finnish Baseball clubs
Tapanen, Emma (2016)
---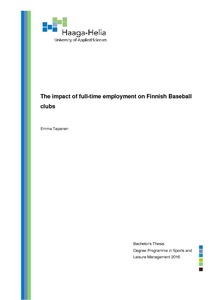 Haaga-Helia ammattikorkeakoulu
2016
All rights reserved
Julkaisun pysyvä osoite on
http://urn.fi/URN:NBN:fi:amk-2016121921072
Tiivistelmä
Hiring full-time employees to sport clubs increases. Similar trend is seen among Finnish
Baseball clubs, yet thorough study has not been conducted whether the employment has
actually developed the clubs or not. There are currently 26 Finnish Baseball clubs that
have altogether 42 full-time employees. These clubs are the target of this study.
The main goal of this thesis is to find out whether the clubs have been able to develop due
to the hiring. Therefore, the impact of the full-time employment is observed by evaluating
the clubs' financial state, management, and the daily operations. As a secondary goal, the
reasons and factors behind the employment, and some information about the work executed
is gathered. The purpose of the goals is to gather factual information and experiences
for the present clubs that have hired the full-time employee(s), and the clubs that
are about to, or consider the hiring. The commissioning party for this thesis is the Finnish
Baseball Association (FBA).
The study was executed as a quantitative research. A survey questionnaire via Webropol
was sent in the spring 2016 to the core people of the 26 Clubs: the chairperson, the employees
(part-time/ full-time), and the board members. Total of 47 persons answered the
survey.
According to the results, it seems that majority of the clubs have been able to develop their
activity due to the impact of the full-time employment. The activity was generally found to
be more organized, and planned than before, and the clubs' finance, management, and the
daily operations were improved, of which the daily operations was found to be the most developed
area. The full-time employment effected positively on the member numbers increase,
yet the participation fees had increased.
Human resources was revealed to be an area that lacked development, both in terms of
the volunteer activity, and the working of the full-time employee. The questions concerning
the volunteer activity received the lowest results on each section they were asked. Further,
some difficulties were reported concerning the full-time employee's job descriptions, and
changed, or increased work duties.
Based on this study, the Finnish Baseball clubs do develop due to the impact of full-time
employment. However, in order for clubs and employee to get the most benefit out the employment,
there should be careful planning executed, and targets aimed before and during
the employment.
Kokoelmat