Kreativ undervisning : En studie om motivationens betydelse vid inlärning
Sandström, Bo-Anders (2016)
---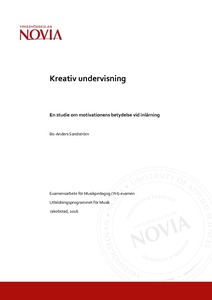 Yrkeshögskolan Novia
2016
All rights reserved
Julkaisun pysyvä osoite on
http://urn.fi/URN:NBN:fi:amk-2016122021228
Tiivistelmä
Musikinstituten i Finland har av tradition en undervisningskultur med målinriktade och från nivå till nivå fortskridande studier enligt en nationell läroplansgrund given av Utbildningsstyrelsen(UBS). För tillfället pågår en revidering av läroplansgrunden och frågan om dess innehåll är aktuell. De problem som jag till vardags stöter på via min egen undervisning eller via min personal är omotiverade elever. Idag finns det mycket forskning om motivationens betydelse för läroprocessen och det i sin tur har lett till nya rön om kreativ undervisning.
Syftet med denna studie är att granska och analysera nuvarande läroplansgrund för att se om det inom ramen för den går att bedriva en kreativ undervisning som stimulerar elevernas motivation. Det leder till följande forskningsfrågor: På vilket sätt påverkar nuvarande läroplansgrund elevernas motivation? Hur förhåller sig nuvarande läroplansgrund till kreativ undervisning? Vad är det pedagogiska syftet enligt UBS? Hurdan är inlärningssynen och den pedagogiska miljön enligt UBS? Vad är utbildningens mål och innehåll? Hur sker bedömningen?
I min forskning använder jag mig av kvalitativ hermeneutisk forskningsansats. Jag kommer att granska musikinstituten i Finland och den undervisningskultur som där bedrivs Jag analyserar litteratur, intervjuer, enkäter och svar via gruppdiskussioner. Jag har en lång arbetserfarenhet som gitarrlärare under 25 år och som rektor sen 2009, samt styrelsemedlem sedan 2013 i Finlands Musikläroinrättningars Förbund
Resultatet av min studie är att nuvarande läroplansgrund inte är ett hinder för en kreativ undervisning. Den nya läroplansgrunden som står klar 2017 kommer att utvecklas mot en mera kreativ och reflekterande syn på undervisning. En förändring mot en undervisning som kännetecknas av motiverade lärare och motiverade elever måste börja hos läraren. Den bästa undervisningen för att hålla upp motivationen enligt min åsikt är en kreativ simultan inlärning. En förändring i verksamhetskulturen kan börja genast. Det förutsätter en vilja hos läraren att investera tid i en personlig utveckling mot kreativt tänkande men det kommer också att betala sig.
The teaching culture at institutes of music in Finland is traditionally characterized by progressive, goal-oriented studies in accordance with a national curriculum laid down by the Board of Education (UBS). At the moment the curriculum basis is being revised and its content scrutinized and questioned. Unmotivated students are a constant challenge for me in my own teaching context and my staff in theirs. Today, many studies have been conducted into the effect of motivation on the teaching process which have produced new findings about creative teaching.
This thesis aims to study and analyze the present-day curriculum basis to establish whether within its parameters a creative method of teaching can be accommodated and implemented to stimulate motivation on the part of the student. This will provoke a series of research questions:
In what way does the present curriculum basis influence a student's motivation? How can this (present) curriculum basis relate to creative teaching? What is the pedagogical objectives of the UBS? How does the UBS view this education and the teaching parameters? What are the aims and content of this education? How are studies to be assessed?
In my research I will employ the qualitative hermeneutical method. I will study the music institutes in Finland and their current teaching culture. I will analyze articles, interviews, questionnaires and feedback from group discussions. My professional experience spans over 25 years, initially as a guitar teacher and latterly (since 2009) as a college principal; it also includes duties as a board member for the federation of music colleges in Finland.
As a result of my research the present curriculum basis will not prove an obstacle for creative teaching. The revised curriculum basis, which will be ready for implementation in 2017, will be developed towards a more creative, reflective teaching perspective. A change towards a teaching style comprising motivated teachers and students must begin with the teacher. I strongly believe that creative simultaneous education is the optimal method for sustaining (teacher-student) motivation. The changes of education culture could be immediate. This presupposes a desire on the part of the teacher to invest time and energy in his/her own personal development towards creative thinking for which he/she will be reap the benefits.
Kokoelmat