Kvävegödsling i vårvete med Yara N-sensor
Fagerström, Fredrik (2016)
---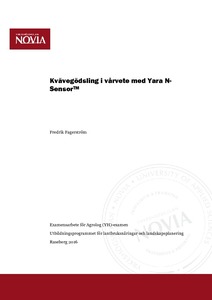 Yrkeshögskolan Novia
2016
All rights reserved
Julkaisun pysyvä osoite on
http://urn.fi/URN:NBN:fi:amk-201701301755
Tiivistelmä
Kväve är ett avgörande växtnäringsämne för att en gröda skall kunna producera en hög skörd med bra kvalitet. Brist på kväve betyder att grödan kommer att producera mindre kärnskörd med sämre kvalitet medan för mycket kväve leder till att stråstyrkan sjunker, vilket kan leda till liggsäd. Mineraliseringen av markkväve, påverkas främst av mullhalten och årsmånen. Mullhalten och för mineraliseringsprocessen avgörande faktorer som syretillgång, temperatur och vattenhalt varierar inte bara mellan olika fält, utan också inom det enskilda fältet. Den mängd kväve som tillförs i form av gödsel borde således anpassas till dessa inom-fält skillnader.
Till grund för detta arbete ligger ett fältförsök, som gick ut på att undersöka vilka effekter en delning av kvävegivan har då den återstående mängden tillförsmed Yara N-sensorTM (= N-sensor). Denna behandling jämfördes med ett led där hela kvävegivan tillfördes i samband med kombisådd. De parametrar som mättes var kärnskörd, proteinhalt samt gödselåtgång Arbetets hypotes var att precisionsspridning utav mineralgödsel med N-sensor ger en jämnare och högre kärnskörd, samt en högre och jämnare proteinhalt, samtidigt som den totala gödselåtgången är densamma, eller till och med lägre.
Övergödsling med N-sensor resulterade i en kärnskördeökning på 6 % jämfört med det led där vårvetet tillfördes hela givan i samband med sådd. Användning av N-sensor i vårvete gav, trots en extra körning i fält, en nettovinst på 34,43 €/ha.
Nitrogen is one of the most important plant nutrients that a plant needs to produce a harvest of good quality. Lack of nitrogen means that the plant is going to produce a lower yield with worse quality while too much nitrogen means that the plants straw is weaker which can leads to lodging. Mineralization of soil nitrogen, depends mostly on soil type and structure. Key factors for the amount of humus and mineralization process as oxygen asset, temperature and water content is not only variable between fields, but also inside every field. The amount of nitrogen thereby be reduced to inside field variable.
The basis for this work is a field trial, which investigated what kind of effects shared nitrogen application has, when the remainder of the nitrogen is spread with Yara N-sensorTM (= N-sensor). This handling was compered to giving all nitrogen when sowing the filed. Parameters that were measured was yield harvest, protein content and nutrition used. The hypothesis of this trial was that distributing mineral fertilizers with the Yara N-sensor gives a higher yield as well as a higher and more even protein content, while the total amount of fertilizers needed remains the same, or can be reduced.
The spring wheat crops fertilized by using the Yara N-sensor gave a 6 procent higher yield compared to those where all the nitrogen was applied at the sowing stage. By using the N-sensor in spring wheat it gave you, despite an extra fare in the field, net gain of 34,43 €/ha.
Kokoelmat