Utveckling av en ny modell för webbdesignprocessen : Ett arbete på uppdrag av marknadsföringsbyrån Genero
Westerback, Alexandra (2017)
---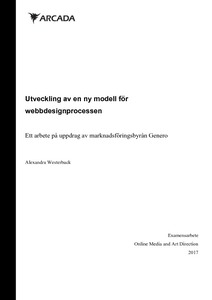 Yrkeshögskolan Arcada
2017
All rights reserved
Julkaisun pysyvä osoite on
http://urn.fi/URN:NBN:fi:amk-201702192513
Tiivistelmä
Examensarbetet görs på uppdrag av den digitala marknadsföringsbyrån Genero, som har bett mig ta fram en ny modell för webbdesignprocessen. Mobile first ska vara en naturlig del av den nya processen och det ska tydligt framgå vilka skeden som ingår i den. Jag har valt att lägga mest fokus på designskedet av processen eftersom det skedet korrelerar med mina studier i Online Media and Art Direction.
Forskningen inleds med att åtta anställda på Genero intervjuas med syfte att kartlägga de utmaningar som de upplevt sig stöta på i webbdesignprocessen samt deras önskemål inför en ny modell. Intervjuerna med de anställda utförs som kvalitativa semistrukturerade intervjuer och transkriberas efteråt. Forskningsmaterialet består av transkriberingar av intervjuerna samt tidigare forskning och litteratur rörande webbdesignprocesser. Transkriberingarna analyseras med hjälp av kvalitativ och kvantitativ innehållsanalys för att finna likheter och olikheter i intervjusvaren. Baserat på resultatet av analysen väljs riktningen för fortsatt forskning. Teorier väljs ut och jämförs med de anställda på Generos önskemål och ett eget processramverk tas fram.
Jag kommer fram till att det bästa alternativet för Genero är att använda sig av en egen hybrid-modell i stället för att anamma en av modellerna som presenteras. Den nya hybrid-modellen har många drag av den agila modellen, men lånar också en del principer av Vattenfallsmodellen. Jag plockar det bästa ur båda modellerna för att skapa en hybrid som stämmer överens med vad som framkommit i intervjuerna. Processen tas upp som helhet och i delar. De steg som presenteras i modellen har valts ut med grund i intervjuerna och i tidigare forskning. Jag går igenom vad varje steg innebär och jag gör en noggrannare djupdykning i designskedet och tar upp lösningar och förslag som framkom i intervjuerna. I slutet av arbetet sammanfattar och visualiserar jag processen.
This degree thesis is commissioned by the digital marketing agency Genero, that has asked me to develop a new model for their web design process. Mobile first is to be a natural part of the new process and the steps included in it should be clearly stated. I have chosen to put extra focus on the design part of the process since it correlates with my studies in Online Media and Art Direction.
I start my research by interviewing eight of the employees at Genero, with the purpose of mapping out the challenges they have faced in the web design process during their time at Genero and what their wishes for a future model are. The interviews are conducted as qualitative semi-structured interviews and are transcribed. My research material consists of the transcribed interviews and prior research and literature regarding web design processes. The transcribed interviews are analysed with qualitative and quantitative content analysis to uncover similarities and differences in the answers. Based on the results of the analysis the path for further research is chosen. Theories are picked out and compared to the wishes of the employees at Genero and a new process is developed.
I reach the conclusion that the best alternative for Genero is to create their own hybridmodel instead of simply adapting one of the presented models. The new hybrid-model shares many similarities with the Agile model but also shares some principals with the Waterfall model. I have chosen the best parts of both models and merged them into a hybrid that correlates with what was revealed in the interviews. I discuss the process as a whole but also in smaller parts. The steps presented have been chosen carefully based on what was said in the interviews and on prior research. I go through every step carefully, the design parts in particular, in which I present solutions and suggestions made during the interviews. In the end of the last chapter I summarize the new process and present it visually.
Kokoelmat